Santa arrives at Oakchurch
Santa's Grotto at Oakchurch country store, Staunton-on-Wye opens on Saturday November 16 at 11am with Father Christmas arriving in his Sleigh. He will be welcoming children to visit him every weekend up to December 23. Also week days from 2pm Monday 16 to Friday 20 December.
The youngsters can tell Santa what presents they would like on Christmas Day and parents can do some Christmas shopping.Visiting Santa is free but Hereford Lions Club would welcome donations to support local charities. Oakchurch is just a short drive out of Hereford on the Brecon road.
Santa Sleigh Route for 2019 (Updated 9th November 2019)
Santa's Sleigh ride around the city streets of Hereford, and in the neighbouring villages, is one of the great Christmas traditions introduced by Hereford Lions Club four decades ago. Thousands of children come out to see Santa and tell him what presents they would like for Christmas with some children giving him a letter (don't forget to put your name and address on it to get a reply from Santa!). Parking in city streets is becoming a major problem so, for safety reasons, in some areas the sleigh will stop at set locations in a street. These are indicated on the route map and families should make their way to the nearest stop point.
Please note: the times given are approximate. We suggest you cut out the route map or put it on the calendar when Santa is in your street. Hereford Lions Club Facebook will also give details each evening of the areas Santa's Sleigh is visiting.
Saturday 30th November
From 5pm – Moreton on Lugg (outside village stores), 5.45pm – Marden School, 6.15pm – Sutton St Nicholas School
Sunday 1st December
From 4.30pm – Eastholme (Community Centre), Westholme Rd (by Notice Board), Mulberry Close, Silver Firs, Wheatridge Rd (corner of Green Nash Close), Rowan Tree Close, Waterfield Rd (by bus shelter), Yarlington Mill (junc Coppin Rise), Carwardine Green, Ethelstan Cres (junc Waterfield Rd), Ethelstan Cres (halfway along), Ethelstan Cres (junc Masefield Ave), Charlton Ave, New Kilvert Rd, Woodward Ave, The Oval
Monday 2nd December
From 5pm – Holme Lacy, 5.45pm – Fownhope, 6.30pm - Mordiford (at The Moon Inn), 7.00pm – Hampton Bishop (Bunch of Carrots)
Tuesday 3rd December
From 5.30pm – Wordsworth Rd, Marlowe Drive, Shakespeare Rd, Cotterell St, Chandos St, Kernal Rd
Wednesday 4th December
From 5.30pm – Clehonger Village Shop, 6.20pm – Madley School, 7.00pm – Kingstone Village Hall, 7.20pm – Coldstone Cross

Thursday 5th December
From 5.30pm – Dinedor Ave and Webtree Ave (sleigh at junction of), Longmeadow (junction of Homestead), Manor Rd, Ridgeway Ave, Aconbury Ave, Mayne Ave, Franks Ave (Community Centre), Woodhouse Way, Hoarwithy Rd, The Pastures, The Shires, The Dales
Friday 6th December
From 5.30pm – Kempton Avenue through to Thirsk Ave, Sandown Drive, Grandstand Rd, Chatsworth Rd, Westfield St, Highmore St, Grandstand Rd (finish at junction of Yazor Rd)
Saturday 7th December
From 4.45pm – Hillary Drive and Bonnington Drive followed by
Burghill; St Marys Park, Redstone, Manorfields, Leasown, Bakers Furlong, Bell Inn at Tillington
Sunday 8th December
From 4.30pm – Goodrich Grove (outside Police Station), Brampton Rd (Brampton Rd Stores), Brampton Rd (junc with Grosmont Grove), Brampton Rd (Premier Stores – junc Killpeck Ave), Treago Grove, Treago Grove (junc with John Tarrant Close), Treago Grove (junc with Vernon Williams and Bert Evans Close), Waterfield Rd (junc Heron Close), Kingfisher Rd
Monday 9th December
From 5.30pm –Belmont Ave (junction of Belmont Ct), Springfield Ave, Hunderton Ave (incl new houses), Charles Witts Ave, Rogers Ave, Wallis Ave, Blackmarston Rd, Merryhill Cres, Haylease Cres, Hunderton Rd, Beattie Ave
Wednesday 11th December
From 5.30pm – Yazor Rd, Ambleside Drive, Windermere Rd, Sherrington Drive, Trinity Rd, Cliveden Grove, Sheridan Rd (junc with Cliveden Grove) Sheridan Rd (junc with Warncombe link), Sheridan Rd (bus stop), Moor Farm Lane
Thursday 12th December
From 5.15pm – Stanberrow Rd (junc Escley Drive), Stanberrow Rd (by school), Marlbrook Rd, Ross Rd flats, Mayberry Ave (post office), Staddlestone, Saxon Gate, Thorsby Drive
Friday 13th December
From 5.15pm – Aylesbrook, Hereford Point, Hugh Thomas Ave, Holmer Manor Close (at the entrance to the close), Glenthorne Rd, Belle Bank Ave, Cleeve Orchard, Wentworth Park (junc with Lytham Drive), Meadow Park, The Furlongs (stopping at the main entrance)
Saturday 14th December
From 4.30pm – Stanbrook Rd (junc with Chichester Close), Oulton Ave (junc with Abingdon Drive), Oulton Ave (junc with Morville Close), Dorchester Way, Grantham Close, Northholme Rd, Broadholme Rd, Wyedean Rise, Tavistock Drive, Sydwall Rd, Whitefriars Rd, Abbotsmead Rd
Sunday 15th December
From 5.00pm – Frome Park, Bartestree, 5.15pm – Burdon Rd, Bartestree, 6.00pm – Crown and Anchor, Lugwardine, 6.30pm – Whittern Way (Perrystone Lane), 6.45pm – Whittern Way (Whitehouse)
Monday 16th December
From 5.15pm – Oak Ave, Laburnam Grove, Hinton Cres, Hinton Ave (junc Hawthorn Grove/Lime Grove), Hinton Ave (junc Birch Grove/Lilac Grove), Putson Ave, St Vincents Close, Goodwin Way, Windsor Rd, Warwick Rd, Hever Rd
Tuesday 17th December
From 5.00pm – College Rd, Queensway, Kingsway, College Green (post office), Lingen Ave, Bulmers Ave, Penn Grove Rd, Moreland Ave, Courtnay Rise
Wednesday 18th December
From 10.30am – High Town Hereford
Thursday 19th December
From 4.45pm – St Guthlac St, Central Ave, Turner St, Green St, Park St, Meadowbank, Chartwell Rd, Blenheim Close, Pilley Road, Church Rd (lower part), Dormington Drive
Friday 20th December
From 4.45pm – Quarry Road - junction of Brockington Drive, junction of Wellington Place (at the crossroads), Gorsty Lane, Rosemary Gardens (junc of Knightswood), Gurney Ave, Queenswood Drive, Nimrod Drive, Old Eign Hill, Harvey Rd, Siddons Rd, Wellington Place
Saturday 21st December
From 5.15pm – Westfaling St, Stephens Close, Coleridge Cres, Langland Drive, Rankin Rd, Moor Park Rd, Ferndale Rd, Hewitt Ave, Huntsman Drive, Cotswold Drive
Sunday 22nd December
From 4.15pm – Roman Way (Stretton Sugwas), Married Quarters (community hall),
Credenhill – Waterside, Glebe Close (stopping at entrance to and Cul de Sac), Ecroyd Park, Trenchard Ave (outside Headway), Oak Rd, Elm Rd, Dovecote Lane
Monday 23rd December
From 2.00pm – Martha Trust – Old Eign Hill, Martha Trust – Holywell Gutter Lane, St Michael's Hospice
THE BEAST DEFEATS COUNTY QUIZ FANS
Hereford Shire hall was packed with quizzers all wanting to beat The Beast, Mark Labbett star of The ITV quiz show The Chase, who lives in Bartestree. None of them beat the super quiz man at the event staged by Hereford Lions and Radway Bridge Garden Centre in aid of the MS Society
The three highest scorers went head to head against Mark in the final but failed to defeat the towering 6ft. 6in TV quiz champion who also performs on The Chase in America and Australia.
The trio are pictured l to r with Mark: Katy Chambers, 27 of Whitecross was a good bet to win having already been a TV winner on The Chase and a £125,000 winner on Who Wants To Be A Millionaire? The others were Andrew Bailey of Little Dewchurch and Matt Taylor, of Bartestree.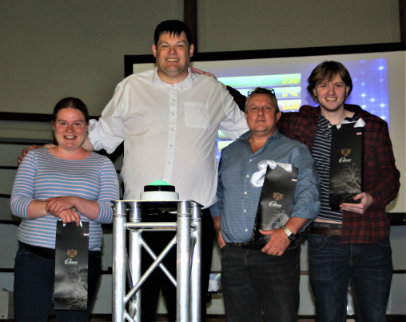 TOPGUN

Winner of Hereford Lions Club Clay Shoot was Matt Pugh with a score of 54 out of 60. Runner-up was Julian Morris 52 out of 60 and third place was a joint result, Ian Palmer and Carl Bloxham on 51-60 each. Matt (left) is pictured receiving the Lion's trophy from shoot organiser Martin Exell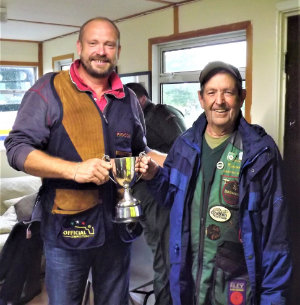 LIONS GOLF WINNERS

Hereford Lions Club's long running annual charity golf tournament at The Herefordshire Golf Club on Friday, August 2,attracted 46 teams of four and the winning foursome with a score of 119 points was: (l to r) Derek Porter, Kate Owen, Rob Waring and Tony Gwynne. (pictured with their golf bag prizes) Team captain was Rob Waring who is chairman of the club's green's committee. Kate, who lives in Burghill is a Mid-Wales Air Ambulance team member based in Welshpool and won the women's prize for the longest drive on the 11th.
Runners up were Matthew Edwards, Jason Tobin, James Williams and Richard Turner with 105 points. In third place were brothers Len Andrews and Phil Andrews, Ken Morris and David Morris with a score of 104.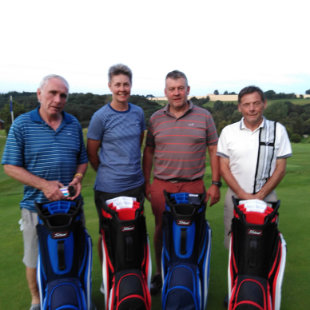 NEW LEADER FOR LIONS CLUB
New president of Hereford Lions Club, the city's most active community service organisation is George Thomas repeating a role he played for the first time in 1993. He has been a community service volunteer stalwart since arriving in Hereford in 1970 as a young journalist on the Hereford Times and later as public relations manager at Bulmers for 25 years.
George's first project was the founding of the Herefordshire Talking Newspaper for the Blind and its first editor. He played a key role in the conversion of the old swimming baths on Edgar Street into the Nell Gwynne Theatre and is a trustee of The Courtyard arts centre which replaced it 20 years ago. He served as deputy chairman of the West Mercia Crime Stoppers Trust for ten years and when he retired in 2004 joined the Hereford in Bloom volunteer team responsible for planting and maintaining the city's flower beds and planters.
Lions Club in the last 12 months has distributed £45,000 supporting local charities and community projects. George's targets for the year ahead are support to help tackle the growing phenomena of dementia and loneliness amongst the elderly. He will also be seeking new members to join the Lions Club, which he himself has served for 36 years.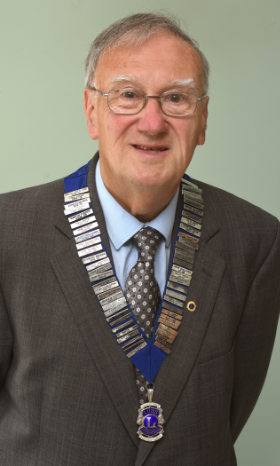 GIll JOINS THE LIONS

Lions Club welcomed Gill Tudor, its latest new member at the last meeting Gill, a grandmother and retired catering manager at the Madley Satellite Station is secretary of Tupsley WI. Her hobby is jive dancing. She is pictured (centre) with club president Jim Hamilton and her sponsor Sian Bayliss. New members are always welcome.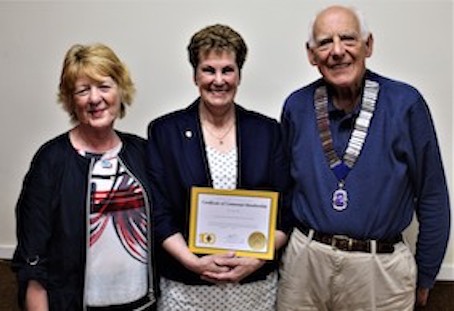 TONY'S 50 YEARS IN LIONS

Retired accountant Tony Cole has received both royal and international commendations marking his half century of service to Hereford Lions Club, part of the worldwide Lions International organisation.
Club president, Jim Hamilton presented Tony, who joined Lions in 1968 with a special certificate signed by Sophie, the Countess of Wessex, Patron of Lions UK and a personal letter from Lions international president, Gudrun Yngvadottr of Iceland.
Tony club president in 1974, created the Lions Club link to an annual youth international football tournament in Holland 43 years ago, taking four schoolboy teams to Vianen , a project which has continued ever since and for the last two years includes a girls' team. He was also one of the founders of the Herefordshire youth football league.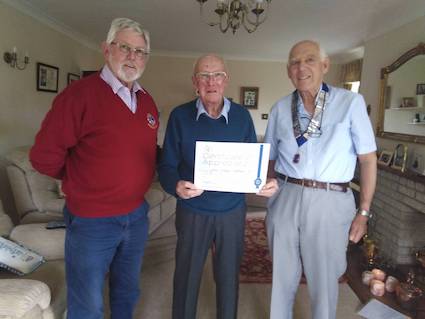 Lions: (l to r) Simon Swancott, Tony Cole, Jim Hamilton

AN INVITATION FROM US

The club is part of a worldwide community service organisation and has served it's own community here in Hereford for over 60 years.
It offers friendship and fellowship to members – men and women from all walks of life – who would enjoy an active social life with likeminded folk whilst making a worthwhile contribution to the well -being of the community. New members are always welcome and we invite you to consider becoming a member of Hereford Lions Club and share with us the pleasure and satisfaction of being a Lion.
The club meets twice a month at the Welsh Club, enjoys social evenings and working alongside fellow volunteers on community fund-raising activities, ranging from pub quizzes to car boots can be a lot of fun.

If the idea of being a Lion appeals to you have a chat with:
Lion Sian Bayliss or Lion Allan Field
01432 359640 01432 487163

HEREFORD LIONS SOLVE SCANNER PROBLEM

Hereford Lions Club has bought a £8.824 bladder scanner for the Urology department at the city's county hospital after Keith Martin, one of its members made several visits to the department for check-ups on his bladder only for the vital scanner to be regularly out of action. He was told the unit was desperate for a new, up-to-date scanner, but NHS funds were not available. When the club heard Keith's story, his fellow members decided to pay for a new scanner, a blessing for the huge number of patients suffering with bladder problems, but often having to make repeat visits if the scanner wasn't working.
Said consultant Mr Mehmood Akhtar :"The gift from Lions Club will ensure the efficient running of the department and no more delays for patients needing to establish if they have bladder problems and require medical attention."
It was given to the hospital in memory of Stan Austin, a highly respected city businessman who died in February last year. Stan was a member of Lions Club for many years and left a £20,000 legacy to the club's charity fund.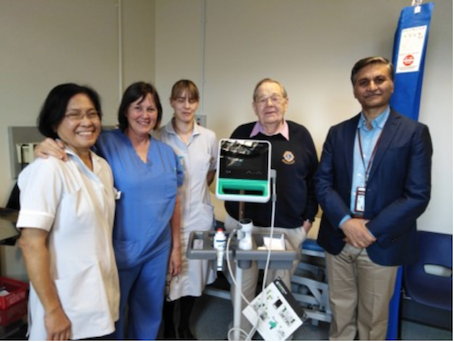 Keith Martin hands over the scanner to the medical team (l to r) Carina Allaway, Angie Morris, Jayne Taylor, Keith Martin, Mehmood Akhtar

LIONS TACKLE LONELINESS
Hereford Lions Club has set up a special fund to help tackle loneliness in our communities. Grants will be available to organisations or voluntary groups wanting to set up clubs or activities to benefit those suffering from the effects of loneliness, a growing trend in modern society.
Their health and well being can be seriously impaired, a situation recently recognised by Government. Its not only the elderly effected; a recent survey showed young people are also at ridsk.
Mike Hughes leader of the Lions community support team which is already involved with the elderly and the handicapped, said: "We believe there is much more direct action that can be taken by voluntary groups in communities to help relieve the impact of loneliness and the Lions Club offer of financial support will help to get them started."
Mike can be contacted at:
[email protected]
GREAT RESPONSE TO LIONS LONELINES CAMPAIGN
Communities across the county are responding positively to the campaign to help relieve loneliness and several responded quickly to the offer by Lions Club to give grants to projects set up to beat the impact of despair on the lonely. Lions Club urges more to apply for grants of up to £250
The first application was from Bodenham Compassionate Community, newly set up by retired doctors, Richard and Karilyn Collins. Trained volunteers, working closely with the local GP Surgery visit people in their homes to help them overcome loneliness and reconnect with the community. This could be the start of a countywide scheme. Carol Condie spotted a mention on TV about 'Contact the Elderly' a project to invite lonely old folk to afternoon tea parties and quickly set up her own city team of volunteer drivers and party hosts and has 11 on the 'guest list'.
Burghill Good Neighbour Scheme was set up two years ago and volunteers visit those who need a helping hand ranging from collecting prescriptions, form filling, running errands to changing a light bulb. Perhaps most important on the list is 'befriending' and the social events to combat loneliness and social isolation. Garway has a Tuesday Club for the elderly and has extended this by offering lifts to local events and the Lions grant will help fund extra activities.
Herefordshire is a caring and generous community and Lions Club looks forward to receiving more grant applications for its 'Beat Loneliness' campaign.
CASH FOR HOSPITAL PROJECTS
Hereford Lions Club has donated £15,000 to help fund two key projects at the County Hospital.
£5,000 was contributed to the £75,000 Born Sleeping appeal to create a delivery suite, family bedroom and counselling room in the maternity unit for parents whose baby does not survive. It's a first for the hospital and aims to give grieving families private space to cope with their loss and receive counselling. The fund target was reached and work has started.
A £10,000 donation has been pledged to the Prostate Cancer unit at the hospital to purchase a much needed £30,000 replacement sample testing machine; a gift in memory of those fellow Lions Club members lost over the years to prostate cancer. The new machine will speed up the delivery of sample tests. Before the County Hospital established its own Prostate unit a few years ago, patients faced long and tiring journeys to Cheltenham or Birmingham.


Photos: Maxine Chong, head of midwifery with President Lion Jim Hamilton and Lion Simon Swancott checking the Born Sleeping appeal target.
Andrea Harvey, senior medical scientist shows Lion Jim the sample testing machine which urgently needs replacing.

LIONS BUY HOLIDAY CARAVAN
Hereford Lions Club has bought a seaside caravan in Portmadoc, North Wales, especially designed and built to provide holidays for county those with disabilities and their families. The caravan is on a holiday park at Black Rock Sands which has excellent facilities. It sleeps six. The rental charge is low, being subsidised by Lions Club. Guests have to make their own travel arrangements. Applications should be sent to Mrs Kath Brace, 3 Court Close, Lugwardine, Hereford HR1 4AD. 01432 850336. E mail:
[email protected]
Photo: The holiday caravan.
LIONS SUPPORT RESTORATION OF CITY ROSE GARDEN.
Hereford's long neglected historic rose gardens next to the ruins of Blackfriars Monastery in Widemarsh Street built in 1276 is being restored by a newly formed Friends group of volunteers who are planting hundreds of new rose trees in 29 beds. And Hereford Lions Club did its bit, donating £800 and planting one of the large beds.
Photo: The Mayor, Cllr Sue Boulter joins the Lions to check their rose planting work.
HATTRICK OF GIFTS FOR RIDING FOR DISABLED.
Herefordshire Riding for the Disabled based at Holme Lacy was well supported by Lions Club in a 12 month period. First a new horse was bought for £5,000 followed by a tractor costing £4,000 to lift the horses bales of feed and finally a new hoist costing £2,800 to lift handicapped riders into the saddle.
Photo: Lion Ian Foster hands the tractor over to Rachel King of RDA