SANTA IS COMING TO TOWN
Hereford Lions Club has been hosting Father Christmas on his annual visit to the city for 50 years and even Covid19 wont keep him away this year. But to obey the keep your distance rules popular Santa Sleigh tours to meet the children will be re-arranged.
Usually, Santa stops in each of the streets to chat to a crowd of youngsters and asks them what presents they want for Christmas. Instead the sleigh will keep going slowly with Santa waving and wishing them a happy Christmas.
Lions president, Sian Bayliss said: "We did not want to upset the children by Santa not turning up so the non-stop tour is the alternative. Unfortunately, local villages cannot be included and sadly the popular Santa Grotto at Oakchurch country store cannot go ahead. "
Santa and his sleigh will be in High Town for the day on Wednesday December 16.
The evening city tours start on December 12 to the 20th and these are the routes and start times:
Saturday December12 Tupsley. Whittern Way 5pm
Sunday December 13 Newton Farm 4-30pm
Monday December 14. College Estate. Moorland Avenue 5-30pm
Tuesday December 15. Hinton/ The Pastures 5-15pm
Wednesday December 16 High Town
Thursday December 17 Bobblestock, Sandown Drive 5-30pm. Westfields, Yazor Road, Wordsworth Road.
Friday December 18 Saxon Gate 5-30pm
Saturday December 19. Credenhill 4-30pm
Sunday December 20.Abbeyfieldss, Hunderton 5pm
Please note these are start times and we will try and get around all the areas as soon as we can.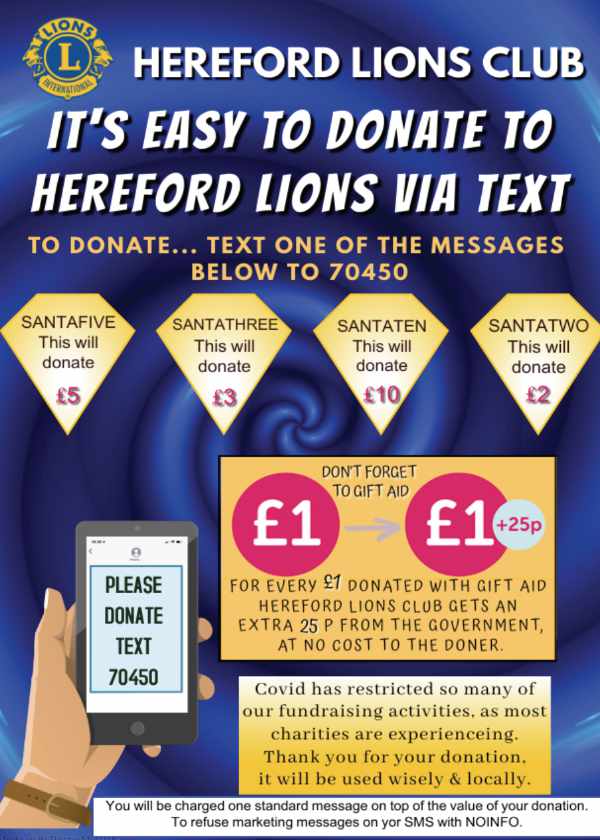 LIONS REMEMBER JIM

Visitors to the volunteer restored Blackfriars Rose Gardens in Hereford now have a smart new bench to sit and admire the magnificent display of hundreds of roses, including a bed planted by Hereford Lions Club, alongside the ancient ruins of the 13th century Blackfriars monastery .
The bench has been donated to the garden by Louise Hamilton as a memorial to her husband Jim who died in May, aged 80, an outstanding member of Lions Clubs International , which he joined in 1983 in Surrey.His Lions record is on the plaque as a permanent reminder of Jim's community support work over almost forty years. He was president of Hereford Lions two years ago and also of Ross-on-Wye Lions after the family retired to the town in 1996, moving near to Hereford seven years ago. He had also served as District Governor of former 105W and, as a computer software expert, chairman of the Lions national information technology committee.
Sian Bayliss, the new , and first woman president of Hereford Lions in its 60 year history, paid tribute to Jim, her personal sponsor just three years ago.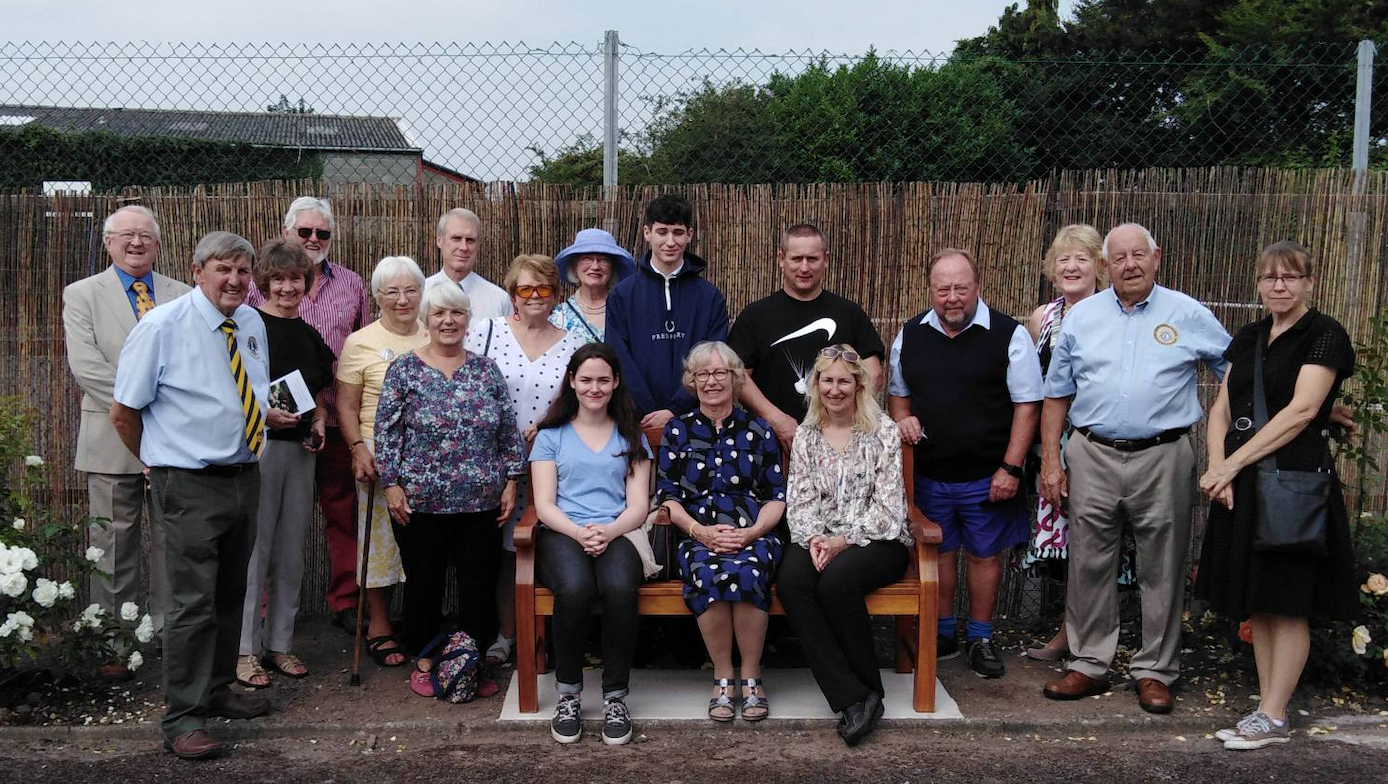 Fellow Lions join the family for the dedication of Jim's bench.


FIRST LADY IN CHARGE OF LIONS
Hereford Lions Club, founded 60 years ago has elected it's first lady President. Sian Bayliss, a retired nurse will be 'Chief Lion' for the next two years rather than the usual one – another first for the club. She joined Lions three years ago when the city club opened its doors to women. She will be encouraging more women to join the club.
A native of Holywell in North Wales, Sian trained as a nurse in Liverpool and devoted her early medical skills to VSO (Voluntary Service Overseas) in Nigeria.
She and her husband Richard, also a Lion chose Hereford as their ideal retirement home when they moved from Bedfordshire six years ago and have quickly integrated with the community, taking on Pastoral Care at Holy Trinity Church, Whitecross, joining U3A (University of the third age) and Sian is a member of Tupsley WI.
Sian's president's project will be supporting Herefordshire Vision Links who care for those who are blind or have poor vision. But her first task is to get Lions Club up and running again after the three month coronavirus lockdown halted their twice monthly meetings at the Welsh Club and key fund-raising events: car boot sales, pub quizes, race night, golf tournament and clay pigeon shoot.
She said: "Lions Club remains dedicated to supporting community projects and charities and will re-launch its popular fund raising events as soon as lockdown permits it." Adding: "Lions offers friendship and fellowship to men and women from all walks of life whilst they are making a worthwhile contribution to the well-being of the community."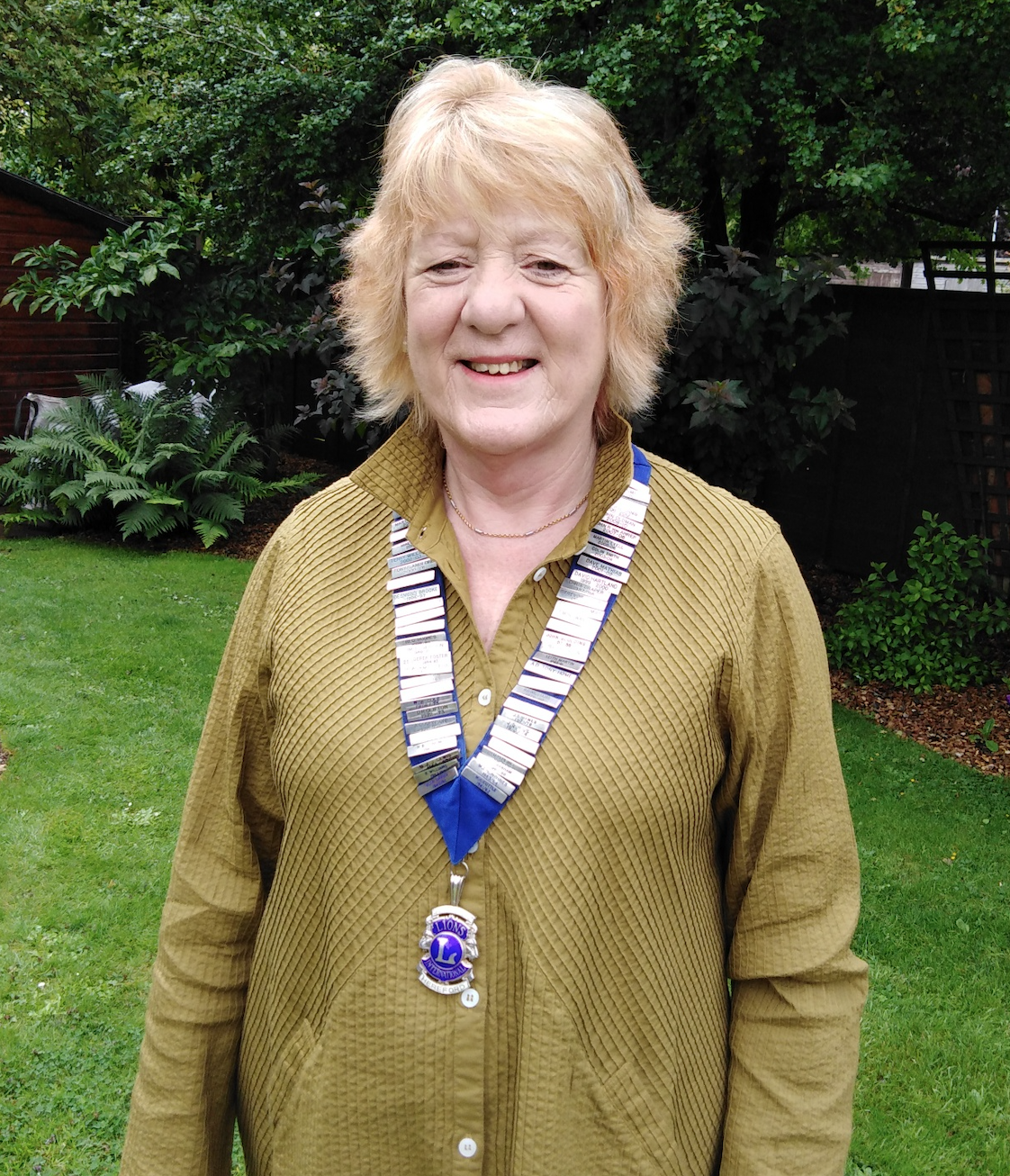 Sian Bayliss – new president of Hereford Lions Club

A DEDICATED LION

Lion Jim Hamilton , a former president of three Lions Clubs, a District Governor and IT advisor to Multiple District has died at his home in Allensmore,aged 80 (May 14). He was particularly proud of his Scottish ancestry and would wear his kilt and sporran at official Lions functions.
Jim joined the international community service organisation in 1983, later becoming President of Surrey Borders Lions Club before moving to Herefordshire in 1996 and joining Ross-on-Wye Lions Club where he also served as President. He was briefly a member of Forest of Dean Lions club before a move to the Hereford area seven years ago saw him become a member of the city club and completing his trio of presidencies.
A retired computer software consultant , Jim was a former chairman of Lions national technology committee and also served as District Governor in 2004/5 in the then Lions 105W district , now part of District 105CW.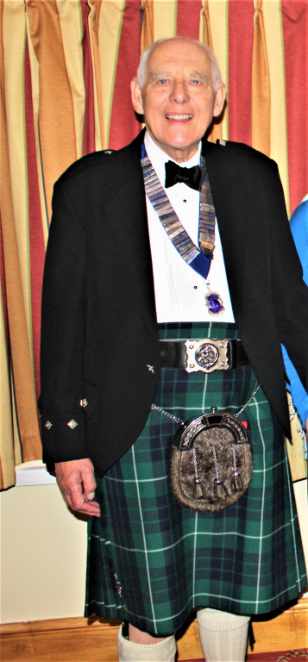 Jim in his Lions regalia plus his kilt.


LIONS STORY TELLING COMPETION
Pupils at Hereford Primary Schools, taking part in a story writing competition created by Hereford Lions Club were told they could be taking the first step to an exciting career when they grow up.
More than a hundred children from seven of the city schools wrote stories, the 11 winners , second and third in two age groups receiving book tokens and a book signed by the Mayor, Cllr Kath Hey and the judge, children's author Jasper Fforde who presented the prizes. Each of the schools, St Paul's, St James, Lord Scudamore, Riverside, Broadlands, Trinity and Holmer had a set of a dozen books for the school library.
Jasper , who lives in Clyro speaking to the story writers said: "The awards represent a first step on a journey to a rewarding and exciting career. Creative writing has never been more in demand . Even if you decide a writing career is not for you still write for yourself for it will make you a more creative person – and creativity is the key to everything."
Gill Tudor, a new member of Hereford Lions came up with the idea of a children's story writing competition ."An avid reader myself, I knew the importance of children learning and enjoying reading, and writing their own stories would be even better." she said.
AID FOR FLOOD VICTIMS
Hereford Lions Club has donated £2,500 to the Herefordshire Community Foundation appeal fund to help the families whose homes were wrecked by the flood disaster when the River Wye reached record levels.
Club member, John Burden and his wife Lindy were on holiday in Thailand when they heard the news Lions were giving £2,000 and quickly added a personal £500 to the club donation.
Club president George Thomas said: "We are more used to sending donations to Lions International Foundation to aid disasters overseas, but responded immediately when some 300 families in our own community had their homes swamped by one of the worst ever floods. Many could not get insurance."
HEREFORD LIONS HELP TACKLE DEMENTIA AND LONELINESSThe club's loneliness campaign offers grants to help groups or individuals set up community activities to benefit those suffering from the effects of being lonely. Several new projects have been set up - volunteers invite people living alone to a regular tea party in one of their homes; Another scheme offers to drive people to local social events;
Similar grants are now available to help communities set up activities and embrace those with Dementia to join in. Memory loss is the plague of Dementia and socialising is an important part of treatment. The most innovative part of the club's dementia project is providing care homes and families caring for a family member with a set of three video films of life in Herefordshire from the fifties plus historic photographs.
Lions president George Thomas said: "The locally produced films, donated to more than 40 care homes will rekindle lost memories for the elderly, especially those affected by Dementia . Those organising activities in a care home have been delighted with the donations."
George added: "Hereford Lions Club this year celebrates 60 years of service to the community and wants to help overcome some of the terrible affects of Dementia."
HEREFORD LIONS SOLVE SCANNER PROBLEM
Hereford Lions Club has bought a £8.824 bladder scanner for the Urology department at the city's county hospital after Keith Martin, one of its members made several visits to the department for check-ups on his bladder only for the vital scanner to be regularly out of action. He was told the unit was desperate for a new, up-to-date scanner, but NHS funds were not available. When the club heard Keith's story, his fellow members decided to pay for a new scanner, a blessing for the huge number of patients suffering with bladder problems, but often having to make repeat visits if the scanner wasn't working.
Said consultant Mr Mehmood Akhtar :"The gift from Lions Club will ensure the efficient running of the department and no more delays for patients needing to establish if they have bladder problems and require medical attention."
It was given to the hospital in memory of Stan Austin, a highly respected city businessman who died in February last year. Stan was a member of Lions Club for many years and left a £20,000 legacy to the club's charity fund.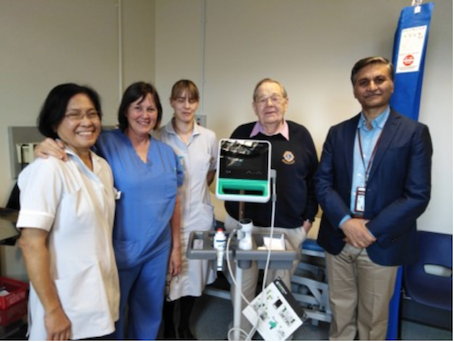 Keith Martin hands over the scanner to the medical team (l to r) Carina Allaway, Angie Morris, Jayne Taylor, Keith Martin, Mehmood Akhtar

LIONS TACKLE LONELINESS
Hereford Lions Club has set up a special fund to help tackle loneliness in our communities. Grants will be available to organisations or voluntary groups wanting to set up clubs or activities to benefit those suffering from the effects of loneliness, a growing trend in modern society.
Their health and well being can be seriously impaired, a situation recently recognised by Government. Its not only the elderly effected; a recent survey showed young people are also at ridsk.
Mike Hughes leader of the Lions community support team which is already involved with the elderly and the handicapped, said: "We believe there is much more direct action that can be taken by voluntary groups in communities to help relieve the impact of loneliness and the Lions Club offer of financial support will help to get them started."
Mike can be contacted at:
[email protected]
GREAT RESPONSE TO LIONS LONELINES CAMPAIGN
Communities across the county are responding positively to the campaign to help relieve loneliness and several responded quickly to the offer by Lions Club to give grants to projects set up to beat the impact of despair on the lonely. Lions Club urges more to apply for grants of up to £250
The first application was from Bodenham Compassionate Community, newly set up by retired doctors, Richard and Karilyn Collins. Trained volunteers, working closely with the local GP Surgery visit people in their homes to help them overcome loneliness and reconnect with the community. This could be the start of a countywide scheme. Carol Condie spotted a mention on TV about 'Contact the Elderly' a project to invite lonely old folk to afternoon tea parties and quickly set up her own city team of volunteer drivers and party hosts and has 11 on the 'guest list'.
Burghill Good Neighbour Scheme was set up two years ago and volunteers visit those who need a helping hand ranging from collecting prescriptions, form filling, running errands to changing a light bulb. Perhaps most important on the list is 'befriending' and the social events to combat loneliness and social isolation. Garway has a Tuesday Club for the elderly and has extended this by offering lifts to local events and the Lions grant will help fund extra activities.
Herefordshire is a caring and generous community and Lions Club looks forward to receiving more grant applications for its 'Beat Loneliness' campaign.
CASH FOR HOSPITAL PROJECTS
Hereford Lions Club has donated £15,000 to help fund two key projects at the County Hospital.
£5,000 was contributed to the £75,000 Born Sleeping appeal to create a delivery suite, family bedroom and counselling room in the maternity unit for parents whose baby does not survive. It's a first for the hospital and aims to give grieving families private space to cope with their loss and receive counselling. The fund target was reached and work has started.
A £10,000 donation has been pledged to the Prostate Cancer unit at the hospital to purchase a much needed £30,000 replacement sample testing machine; a gift in memory of those fellow Lions Club members lost over the years to prostate cancer. The new machine will speed up the delivery of sample tests. Before the County Hospital established its own Prostate unit a few years ago, patients faced long and tiring journeys to Cheltenham or Birmingham.


Photos: Maxine Chong, head of midwifery with President Lion Jim Hamilton and Lion Simon Swancott checking the Born Sleeping appeal target.
Andrea Harvey, senior medical scientist shows Lion Jim the sample testing machine which urgently needs replacing.

LIONS BUY HOLIDAY CARAVAN
Hereford Lions Club has bought a seaside caravan in Portmadoc, North Wales, especially designed and built to provide holidays for county those with disabilities and their families. The caravan is on a holiday park at Black Rock Sands which has excellent facilities. It sleeps six. The rental charge is low, being subsidised by Lions Club. Guests have to make their own travel arrangements. Applications should be sent to Mrs Kath Brace, 3 Court Close, Lugwardine, Hereford HR1 4AD. 01432 850336. E mail:
[email protected]
Photo: The holiday caravan.
LIONS SUPPORT RESTORATION OF CITY ROSE GARDEN.
Hereford's long neglected historic rose gardens next to the ruins of Blackfriars Monastery in Widemarsh Street built in 1276 is being restored by a newly formed Friends group of volunteers who are planting hundreds of new rose trees in 29 beds. And Hereford Lions Club did its bit, donating £800 and planting one of the large beds.
Photo: The Mayor, Cllr Sue Boulter joins the Lions to check their rose planting work.