Hereford Lions Club has raised money for a specialist breast pump to help mothers who are unable to feed their baby direct from the breast.
The club has bought a £1,600 electric breast pump for Hereford County Hospital's neonatal service to be loaned to mothers, in addition to a number of breast pumps already available to them. Sian Thorne, children community nursing team leader at Wye Valley NHS Trust, said: "This is a brilliant donation from the Lions Club. We provide support for all mothers with their infant feeding choices. However, some women who want to breast feed are not able to do so long term and the Lions pump will help overcome this."
Lions president, Sian Bayliss, herself a retired nurse (right presenting the pump to Sian Thorne) said: "Helping with a baby's start in life supporting mum's who want to breast feed but are having difficulties was an important project for the club."
The club's fundraising events for community support have been abandoned since Covid19 flared up in March last year and it is hoping to be able soon to re-start the weekly car boot sales, the annual golf tournament on August 6 and the monthly pub quiz at the Bay Horse.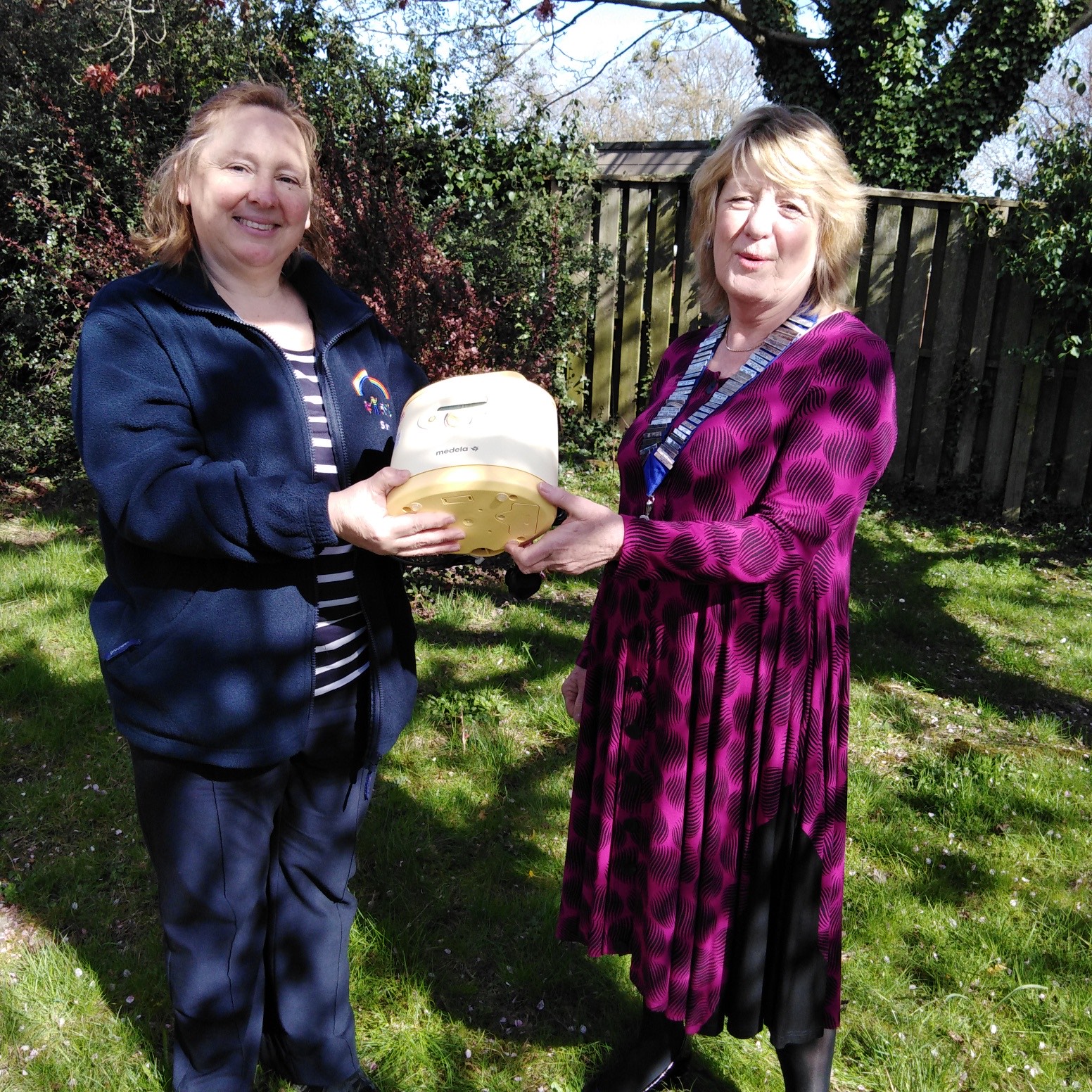 Lion's president Sian Bayliss (right) presents the breast bump to Nurse Sian Thorne

LIONS AWARD FOR WALLY

Hereford Lions Club has recognised Wally Bowles' forty years playing Santa when the club brings Father Christmas to the city. Lions president, Sian Bayliss presented the 93 year old retired teacher with a framed certificate praising his support for the club and it's annual special treat for the children.
Wally, born in Glasgow joined the RAF as an apprentice when he left school at 15, served as a gunner on bombers in the second world war. Back in civilian life, he worked in the building trade before training to be a teacher and arriving in Hereford to join the staff at Haywood School, now known as Hereford Academy . He lives in Credenhill.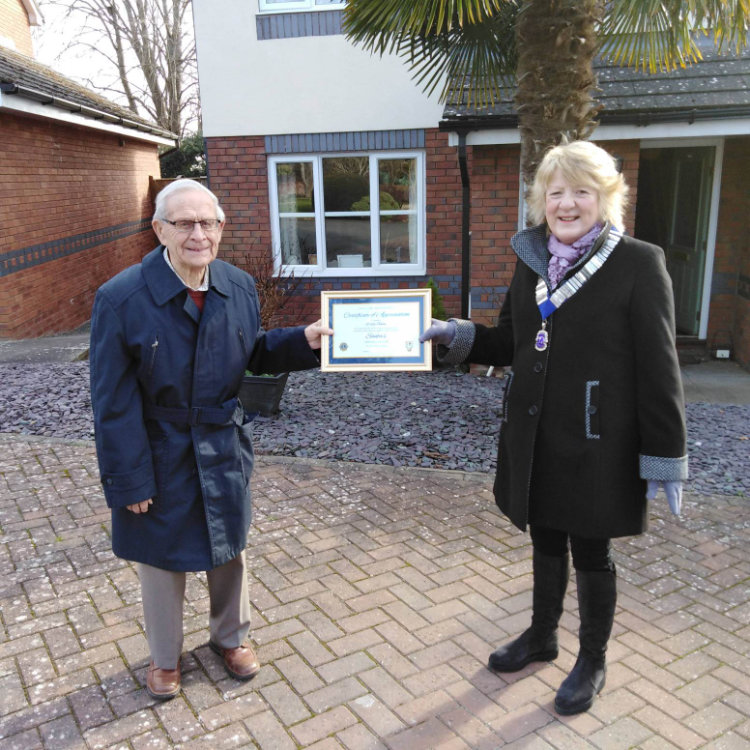 Wally receives his award from Lion Sian.

LIONS HELP THE DISABLED

Hereford Lions Club has been serving the community for sixty years in many different ways and one of its latest projects has been a big success helping the disabled. The club recycles mobility aids donated by families when they are no longer needed and give them to disabled people without the funds to buy one. They range from mobility scooters, wheelchairs to walking aids.
Project leader, Lion Terry Williams said "Families are exceptionally generous and their support has benefited many people struggling with mobility problems."
To make a donation or request an aid contact Lion Terry on 01432 276948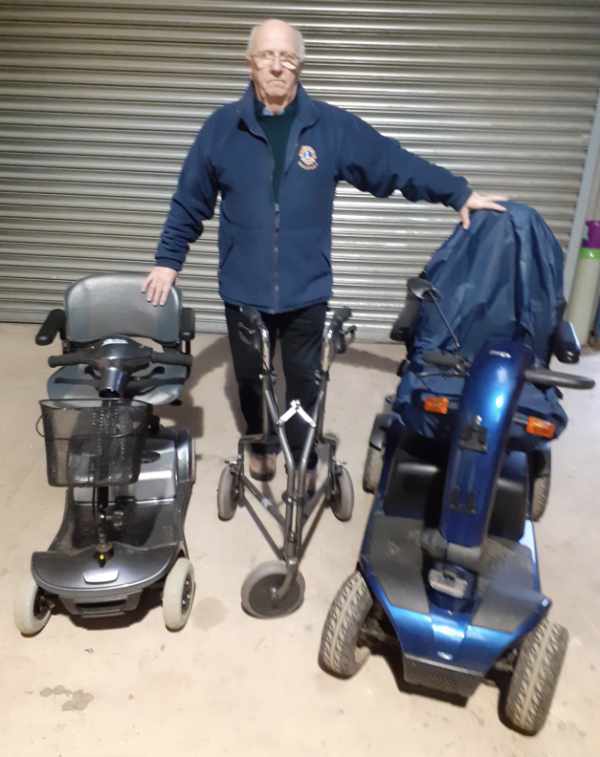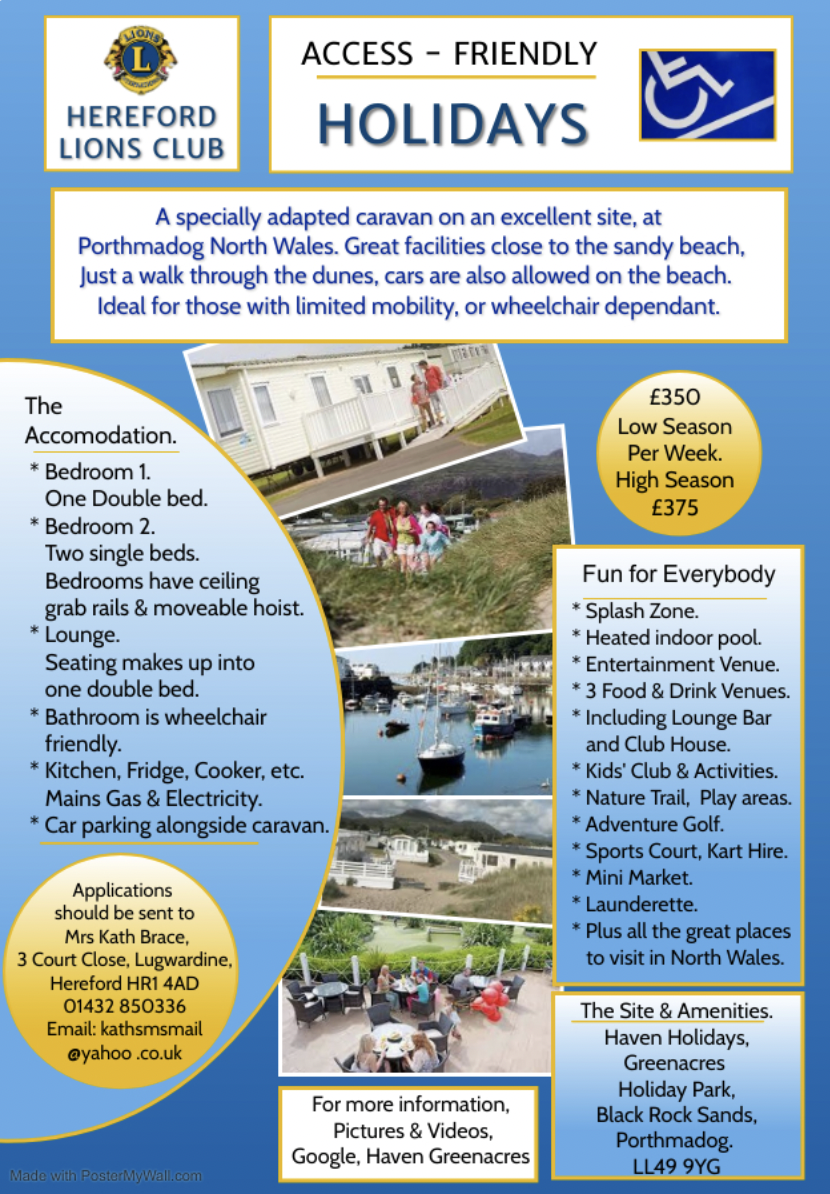 A NEW LION
The latest new member of Hereford Lions Club is Diana Stevens, a retired employee of Nationwide building society living in Belmont. To keep in line with Covid19 rules President Sian Bayliss invited Diana to her garden to be badged up. New members always welcome. Contact Allan Field 01432 487163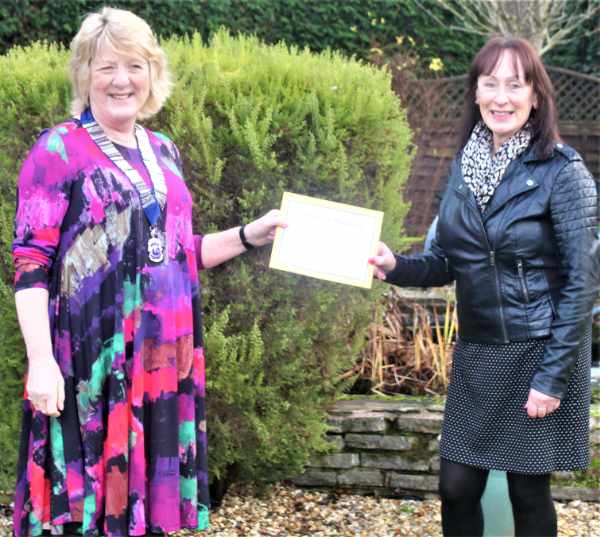 INTERNATIONAL AWARD

Colin Smith a long serving member of Hereford Lions Club has been awarded a special Lions International Centenary honour, recognising his outstanding role in reforming Kington Lions Club after the original club collapsed. A native of Kington , Colin worked tirelessly with a small group interested in reviving the club, using his experience at Hereford as a former president, secretary and Zone chairman. Three years later Kington is a thriving Lions Club with 18 members and about to become 20. Their President, Doug Clark said: "Colin played a a key role in guiding us to establish a new Lions Club in Kington and he deserves the award."
Photo: Hereford Lions president Sian Bayliss presents Colin with his special badge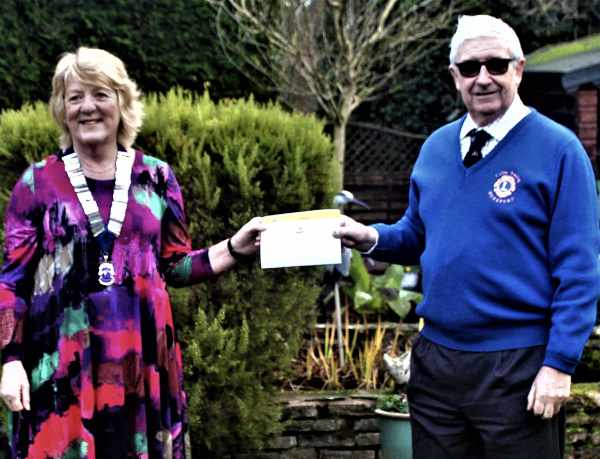 OAKCHURCH DONATION HELPS LIONS

Oakchurch farm shop has regularly hosted Santa's Grotto but this Christmas the terrible Virus ruled out his visit, disappointing thousands of children. It was a big blow also for Hereford Lions Club who organise the popular Father Christmas activity for the community.
Donations from visiting families help Lions support local charities and Oakchurch kindly filled the gap with a £4,000 donation to Lions Club.
Nick Price (left) with Santa who has been touring city streets, but not stopping, is a partner in the family business at Staunton On Wye. He said: "Hosting Santa each year together with Lions Club is a privilege and we wanted to recognise the outstanding work the club does in the community. We look forward to Santa being with us next Christmas."
Lion John Edmunds (right), the Santa Grotto team leader said: "All our fund raising events during the year had to be abandoned, so we are grateful for the much welcomed gesture by Oakchurch."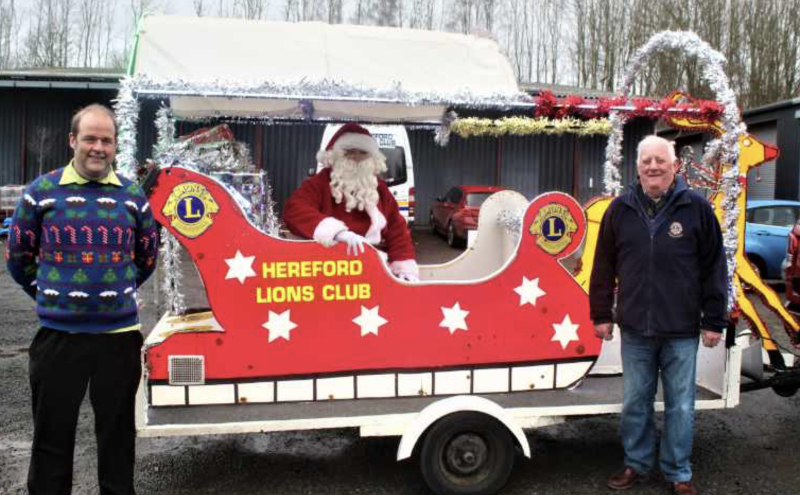 FIRST LADY IN CHARGE OF LIONS

Hereford Lions Club, founded 60 years ago has elected it's first lady President. Sian Bayliss, a retired nurse will be 'Chief Lion' for the next two years rather than the usual one – another first for the club. She joined Lions three years ago when the city club opened its doors to women. She will be encouraging more women to join the club.
A native of Holywell in North Wales, Sian trained as a nurse in Liverpool and devoted her early medical skills to VSO (Voluntary Service Overseas) in Nigeria.
She and her husband Richard, also a Lion chose Hereford as their ideal retirement home when they moved from Bedfordshire six years ago and have quickly integrated with the community, taking on Pastoral Care at Holy Trinity Church, Whitecross, joining U3A (University of the third age) and Sian is a member of Tupsley WI.
Sian's president's project will be supporting Herefordshire Vision Links who care for those who are blind or have poor vision. But her first task is to get Lions Club up and running again after the three month coronavirus lockdown halted their twice monthly meetings at the Welsh Club and key fund-raising events: car boot sales, pub quizes, race night, golf tournament and clay pigeon shoot.
She said: "Lions Club remains dedicated to supporting community projects and charities and will re-launch its popular fund raising events as soon as lockdown permits it." Adding: "Lions offers friendship and fellowship to men and women from all walks of life whilst they are making a worthwhile contribution to the well-being of the community."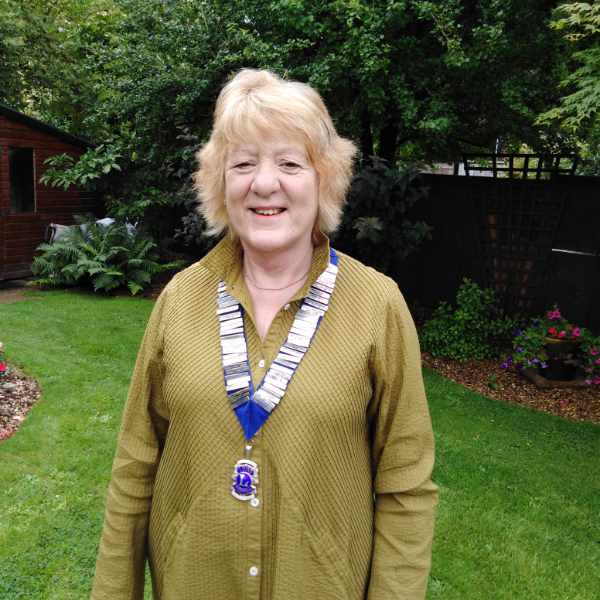 Sian Bayliss – new president of Hereford Lions Club