Lions announce two Projects to mark the Queen's Diamond Jubillee
Avenue of Oaks to Honour the Queen
Hereford Lions Club is planting an avenue of sixty trees, mostly oak as a gift to the city
to celebrate the Queen's Diamond Jubilee in 2012.

The new Diamond Jubilee Avenue on Roman Road by the new livestock market, creates for future generations a magnificent tree lined entrance to the city.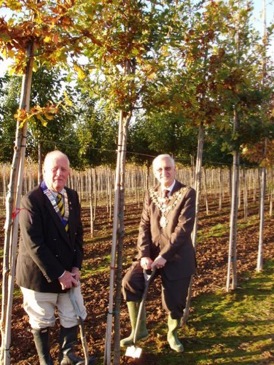 Lion John Edmunds, president of the club, explained: "Our members very much wanted to honour the Queen on her Diamond Jubilee, especially as she and Prince Philip visited the city as part of their nationwide jubilee tour, and the idea of an avenue of traditional English oak trees, which could last for hundreds of years, was the natural choice."
He added: "It is also our thank you to the people of Hereford for their unstinting support of our charity fund raising efforts over more than half a century."
The Mayor of Hereford, Cllr Brian Wilcox said: "This is a very generous gift to the city and one which will be appreciated by the people of Hereford and visitors alike for many generations to come. Lions Club, who already do so much good community work in the city, are to be applauded for marking the Diamond Jubilee in such an appropriate way."
Lion John Edmunds (left) and the Mayor of Hereford, Cllr Brian Wilcox, dig up the first of the 60 oak trees for the new Diamond Jubilee Avenue.
Jubilee Community Fund
Hereford Lions Club has set up a £10,000 Lions Diamond Jubilee Community Fund to help smaller local community and charity projects get started or develop.
The club believes the fund will be a godsend to those community based self-help schemes springing up in the city and neighbouring villages but needing a cash injection to succeed. The fund aims to be a springboard for a wide range of schemes which will improve the quality of life for many people, young or old.
President John Edmunds explained: "The Queen's Diamond Jubilee, together with the Olympics, in 2012 has created a ground swell of support for communities to work more closely together and this is a concept Lions Club wants to foster".
To apply send full details and costings to:Hereford Lions Club, Diamond Jubilee Community Fund, PO Box 158, Hereford HR1 1WS.
Lions Club members come from all walks of life, but have a common bond - a desire to serve the community, and have fun doing so.
New members are always welcome.