LIONS GOLF AM-AM
Hereford Lions Club's annual golf tournament launched 40 years ago at Herefordshire Golf Club was last Friday with 173 players in fours (one in a three). The golf founder, Denzil Biggs of Fownhope was still playing at 94.
The main winning team with 116 points was from the left: Garth Lewis, Ken Ford, Nick Rider, Lions president presenting their awards, Richard Ford, Tom Chardwick
The runner up team with 115 points was John Thomas, Clive Price, Mike Lloyd and James Hardman.
The ladies winning team were: Gill Boase, Kay Eames, Fran Ward, Carola Beavan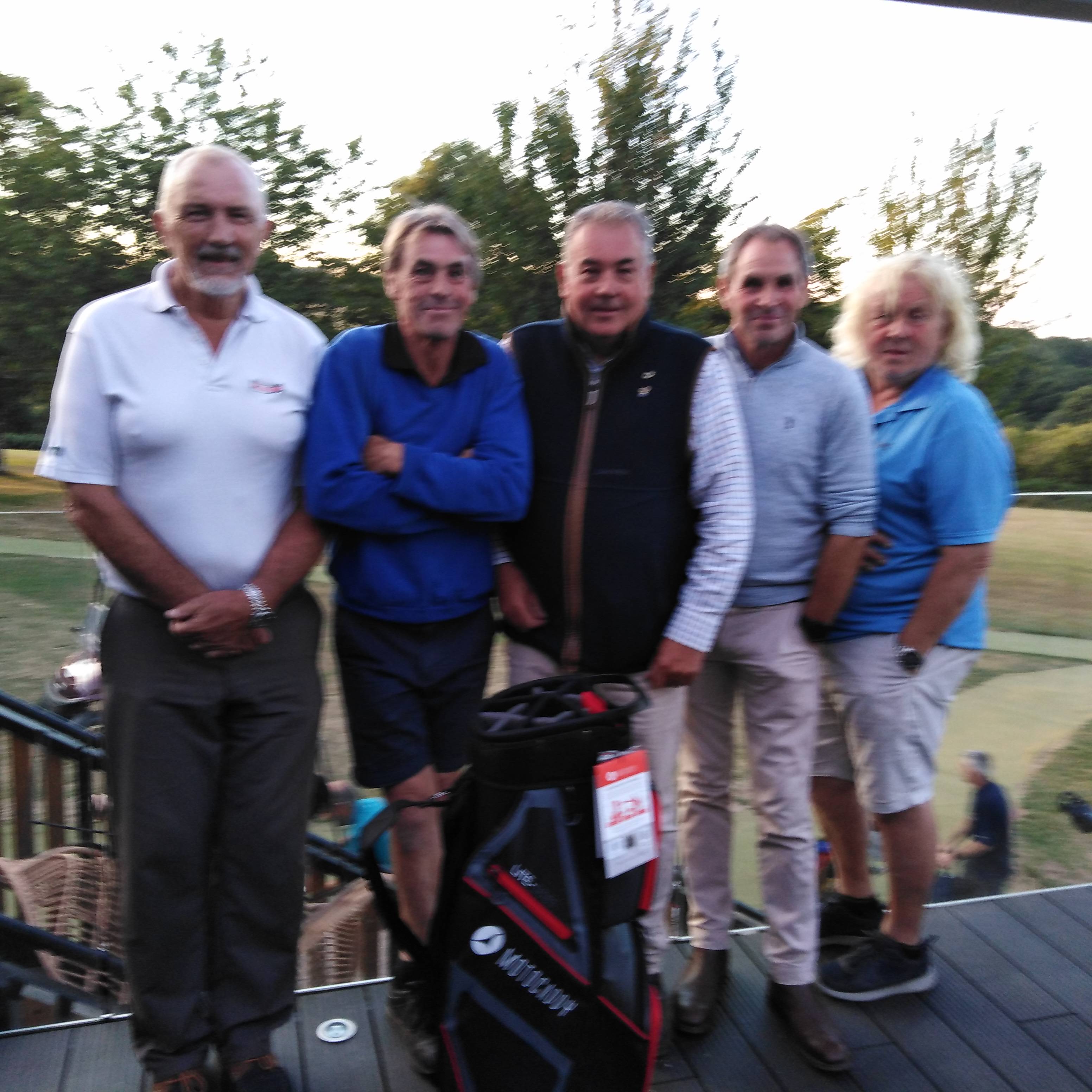 LIONS SOCCER TOURNMENT

Hereford Lions club has been taking young teenager s, mostly schoolboys to an international youth soccer tournament in Holland since 1975, with four age groups, the eldest under 18's.
The lads have often won enough points to come home with the overall tournament title. Well over 2,000 have played over the years, several becoming professionals. Recently girls were included in their own teams.
After the two years pandemic lockdown, more than sixty players and eight managers and trainers returned to Holland for the first week of June and came home with the trophy for most points accumulated in the tournament. The under 17 boys won 11, drawn 1, scoring 26 conceded 2. Zac Bruton was player of the tournament. Players player: Mason Godsall and top goal scorer Harley Morris on 8.The under 15 girls team won 5 and drew 2. Player of the girls tournament was Molly Camden.
The Dutch team will be coming as usual to Hereford in October to play the local teams.

ROYAL SEATS

For Queen Elizabeth's sixty year on the Throne Hereford Lions Club planted 60 trees along Roman Road. To mark her 70,th the year now being celebrated the Lions Club chose to donate two seats surrounded by three trees on Aylestone Park, on the northern edge of the City with the superb support of the volunteer park team who installed the seats and trees. The park is highly popular and the 'royal' seats give a stunning view of the Lugg valley.
Lions press officer, George Thomas said: "The plaques on the seats clearly explain her Majesty deserves the honour imposed on behalf of the people of Hereford. The Queen, together with the late Prince Philip has made several visits to the City since she was Crowned, the last for the Diamond Jubilee in 2020 which was the best ever."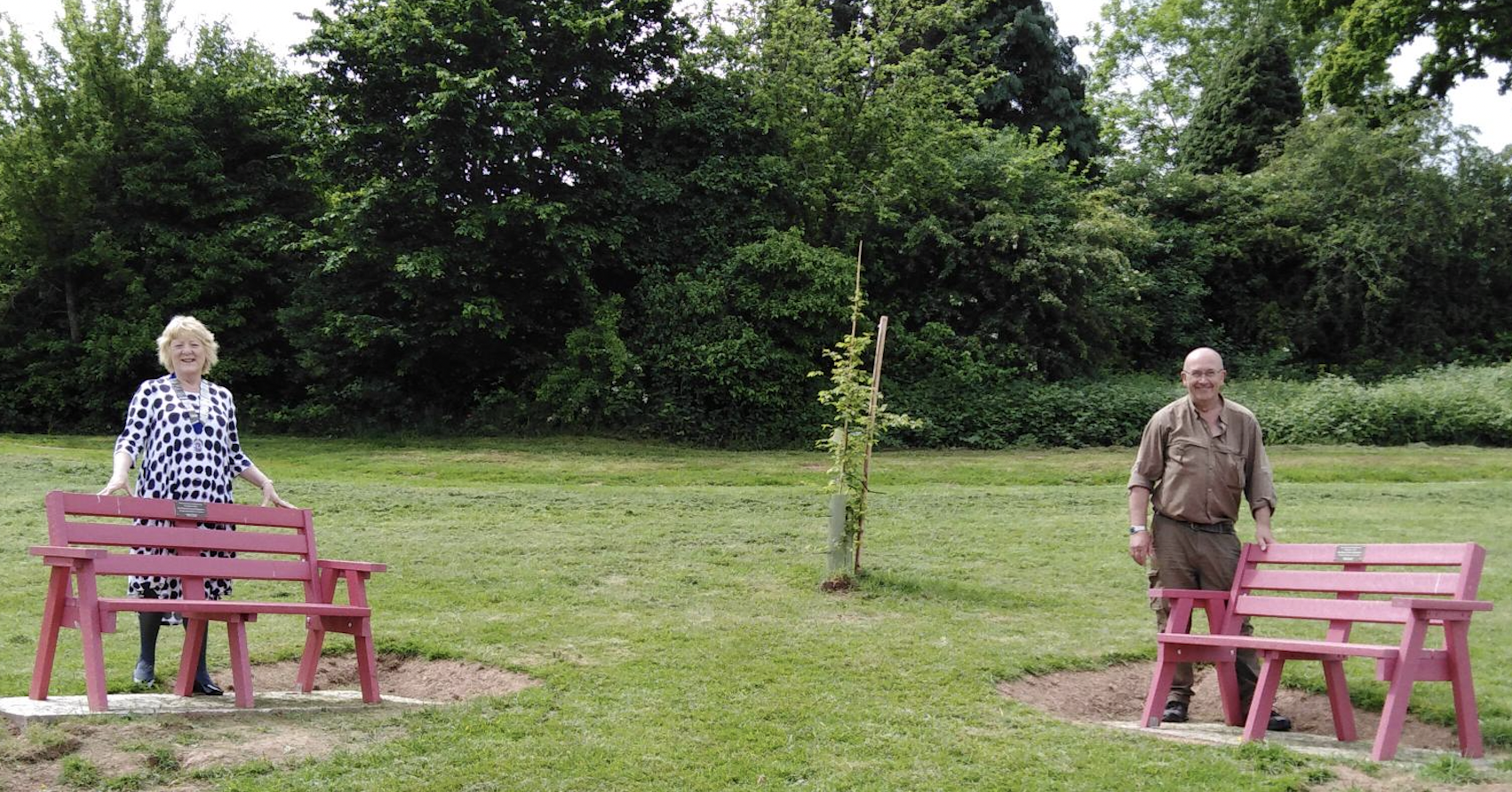 With the seats are: Lion Sian Bayliss, club president and Alistair Gibb, chairman of the park volunteer team.


LIONS SUPPORTING OUR NEW CITIZENS

Hereford Lions Club has delivered a selection of mobility aids to Hereford Help Ukrainians, welcoming refugees arriving in the county. Lion Terry Williams said: "The refugees will mostly be mothers and children, but some elderly amongst them might be disabled and need support."
The volunteers are well prepared with a warehouse full of clothes and everything else the refugees,
now close to 300 total will need. The group leader Dean Granger said: "We had already made 14 trips with vital supplies to the Ukrainian border and now we are ready to support the refugees as they arrive in the county."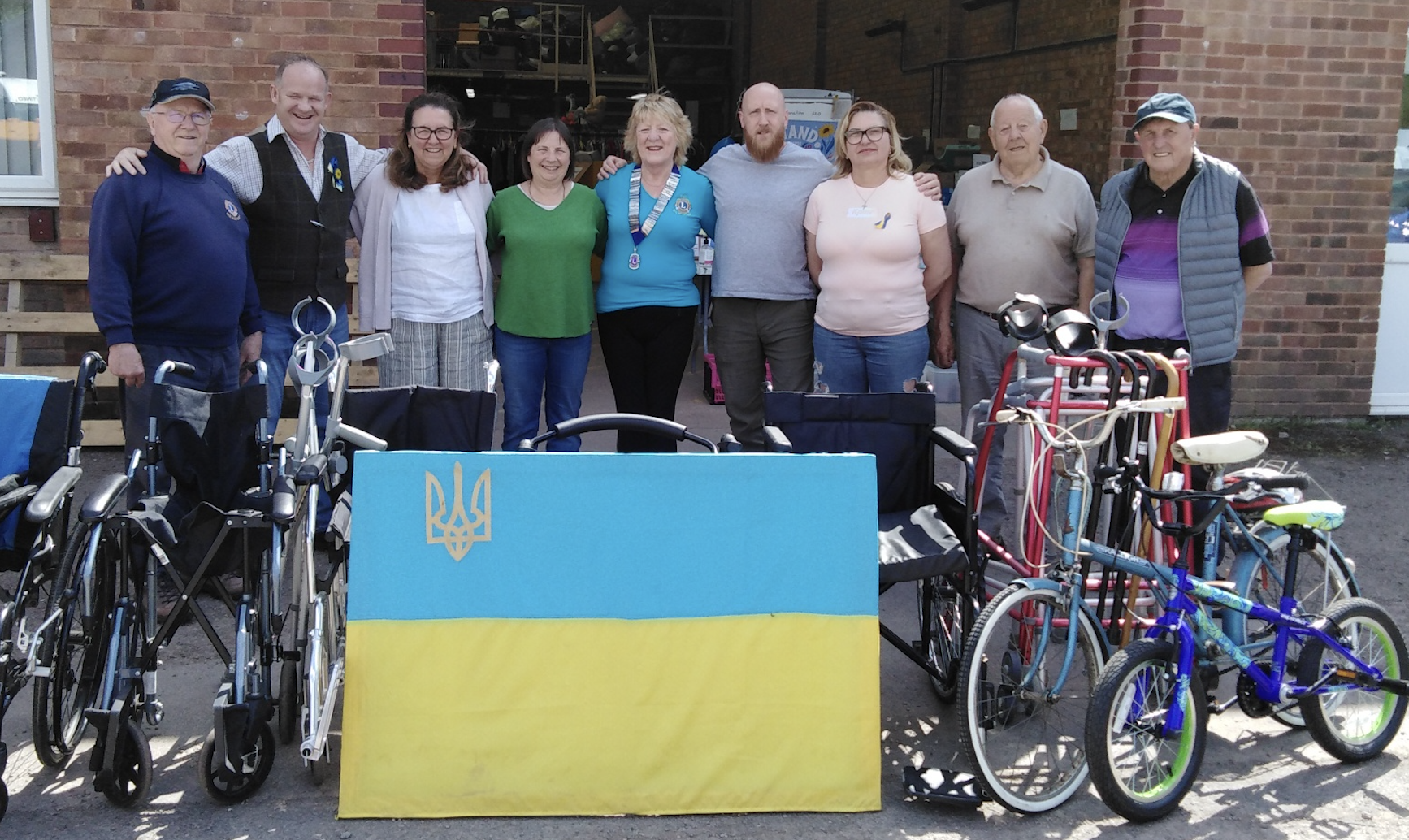 The refugee volunteer helpers and Lions share a moment.

LIONS WELCOME NEW MEMBER

The latest new member to join Hereford Lions Club is Paula Kemp who works within the Government (left) together with President Lion Sian Bayliss
who inducted her to the club and Diana Stevens, her sponsor. New members are always welcomed. Contact Sian.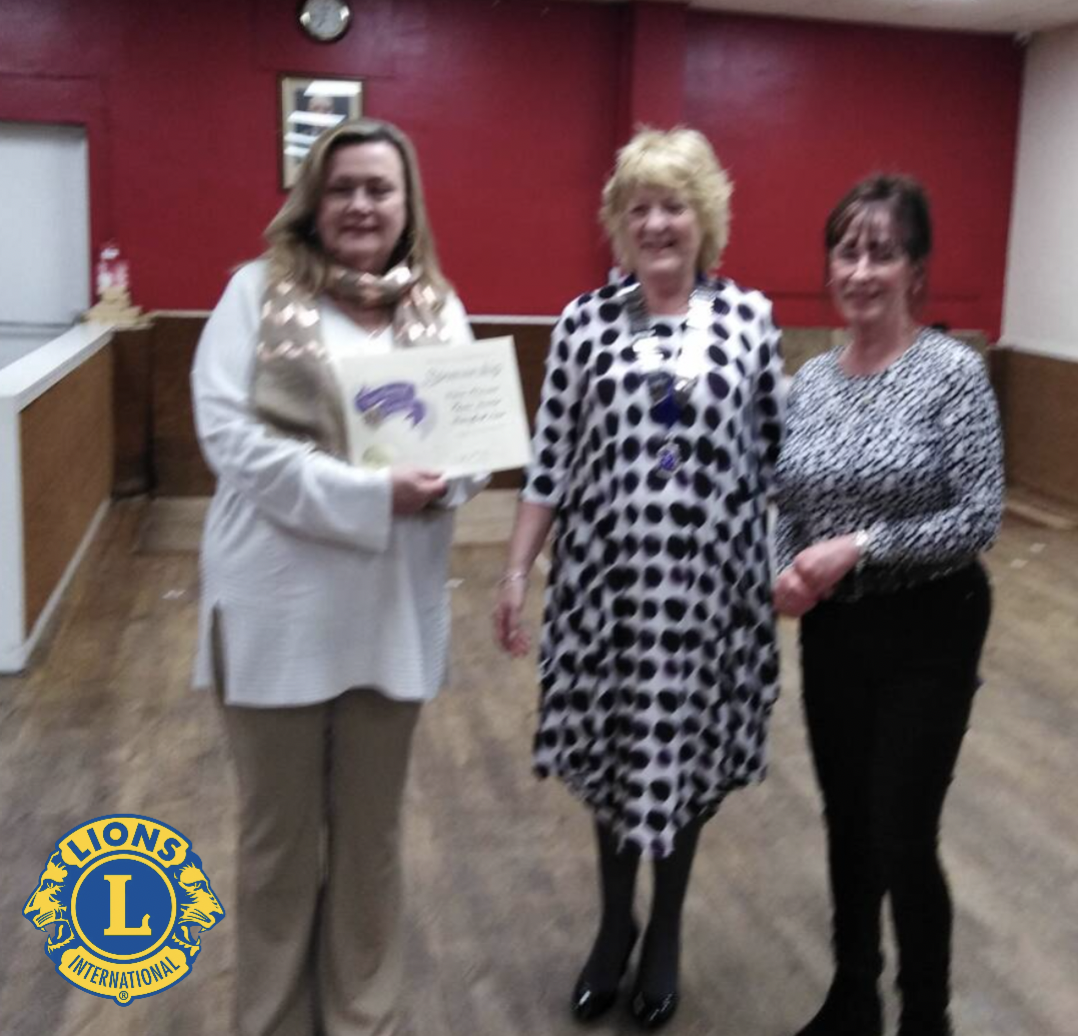 LIONS HELPING THE BLIND


Hereford Lions Club has donated £5,000 to pay for a dog currently being trained to eventually assist a city blind person. The dog has already been given the name Leo. The Lions President, Sian Bayliss presented the c heque at a club meeting to Vicki Manley, herself blind, secretary of the Hereford Guide Dog for the Blind.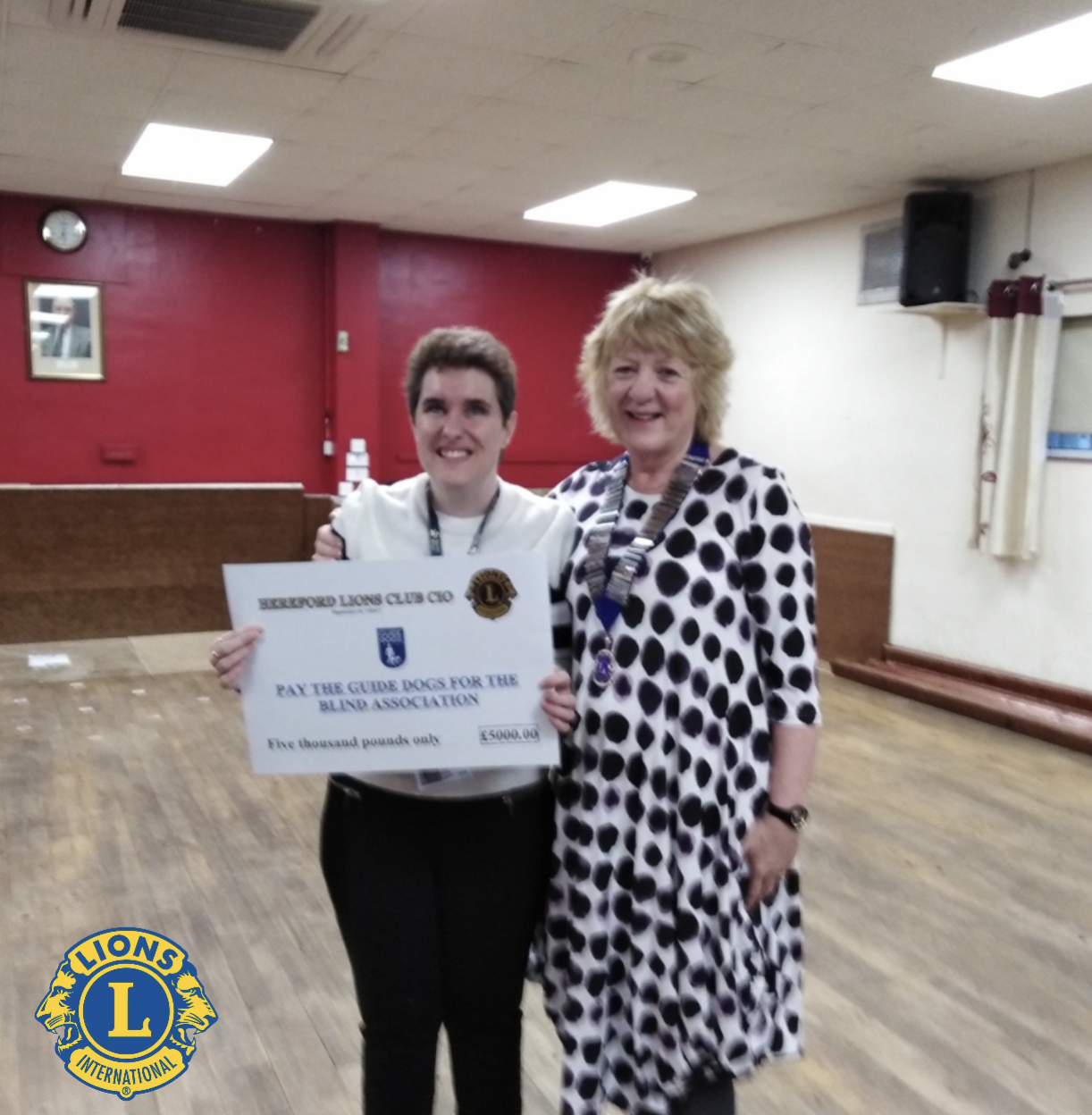 Sian hands over the donation to Vicki.

THANKS TO OAKCHURCH

Hereford Lions Club's annual Santa's Grotto at Oakchurch Farm Shop raised £4,858 for local charities from raffle ticket sales and generous donations from a huge number of families who brought their children to see Santa and tell him what presents they wanted for Christmas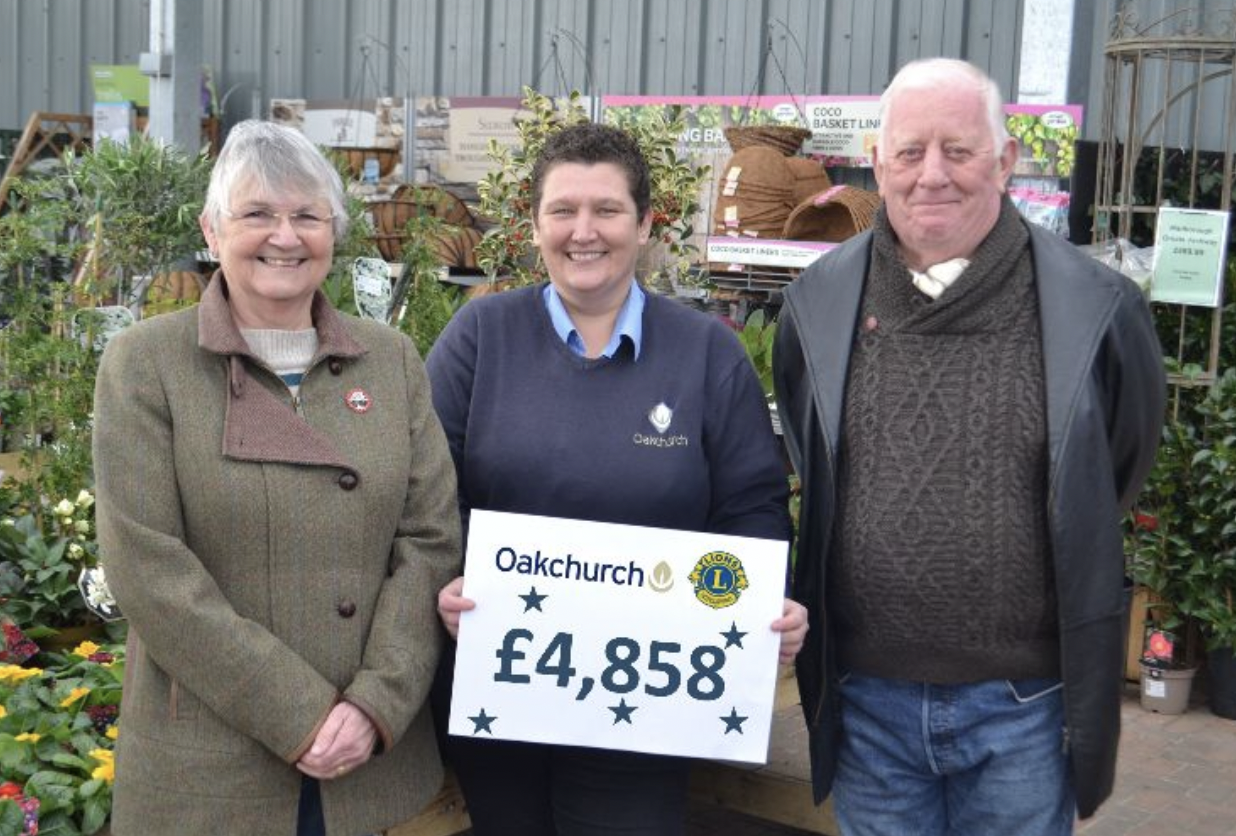 Tammy Ruck, the shop general manager hands over the money raised to Lion John Edmunds, one of the organiser and his wife Valerie who supported him with the raffle.

LIONS CELEBRATE CHRISTMAS

Hereford Lions Club has played a key role in bringing the joy of Christmas to the community. The club donated £500 to the community nurses team for gifts for 60 children in their care, presented by Santa at a festive party.
The annual Lions Santa's Grotto at Oakchurch Farm Shop attracted many hundreds of families for their children to tell Santa what they wanted for Christmas. Meanwell , the Lions historic Santa Sleigh has spent lots of evenings touring the city streets and nearby villages for Santa to spread his festive good wishes to thousands of families.
Lions president, Sian Bayliss, said: "Dispite the pandemic our members have been successful as usual in taking the spirit of Christmas into the community ."


SANTA ARRIVED!
Father Christmas arrived on Saturday at his Santa's Grotto in the Oakchurch Farm Shop a short distance from Hereford on the Brecon Road and looks forward to meeting lots of children on Saturdays and Sundays and in the week before Christmas, each day.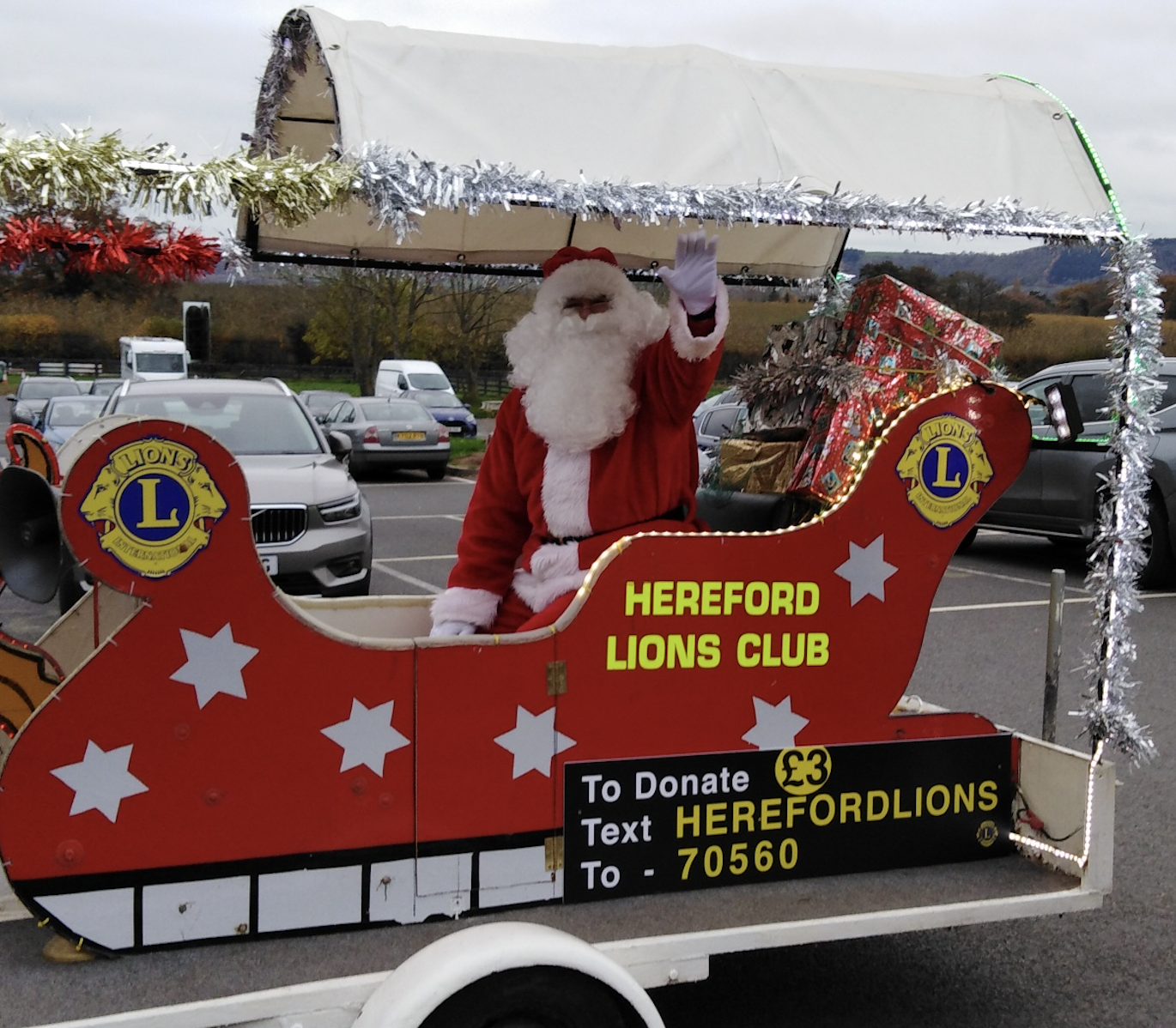 Due to the Covid pendamic families must pre-book a date and time to visit Santa in his Grotto via the website: www.oakchurch.net.
As usual Hereford Lions Club will be helping Santa bring Festive Christmas Cheer to the children of the county.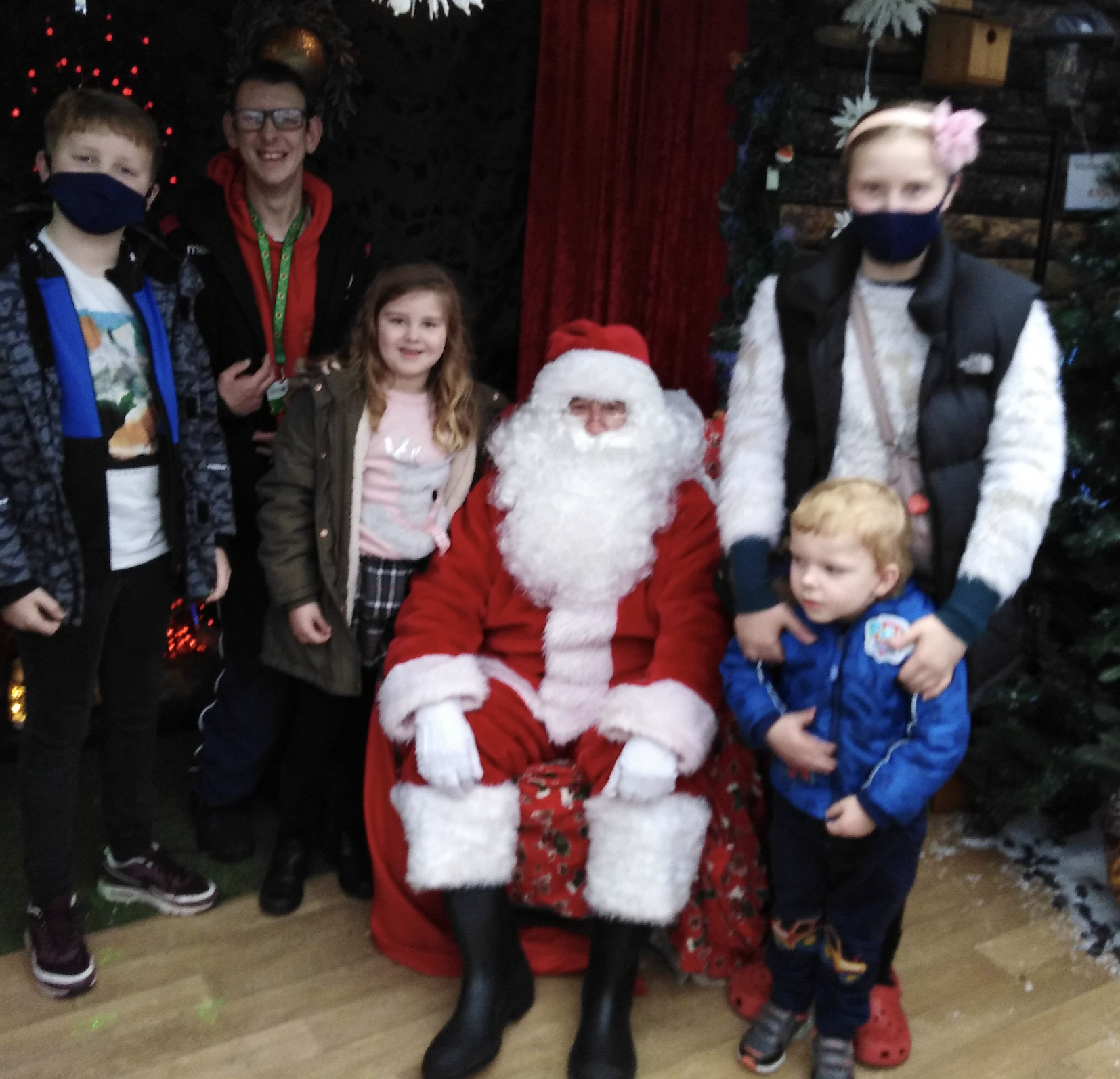 A group of cousins were the first to meet Santa and tell him what they wanted for Christmas-
Alex Ellis, Samual Walker, Cathryn Walker, Charlotte Walker, Oliver Ellis

NEW BIKE FOR RYAN!
Seven year old Ryan Gilbert was born with cerebral palsey making walking very difficult, but now a gift of a specially designed trike from Hereford Lions Club gives Ryan, a pupil at Trinity SchoolI In Hereford lots of mobility. He is one of triples : brother Nathan and sister Heidi. Mum Lisa said: "The trike will make a big impact on Ryan's life,, thanks to the Lions."
Lion Mike Hughes presented it.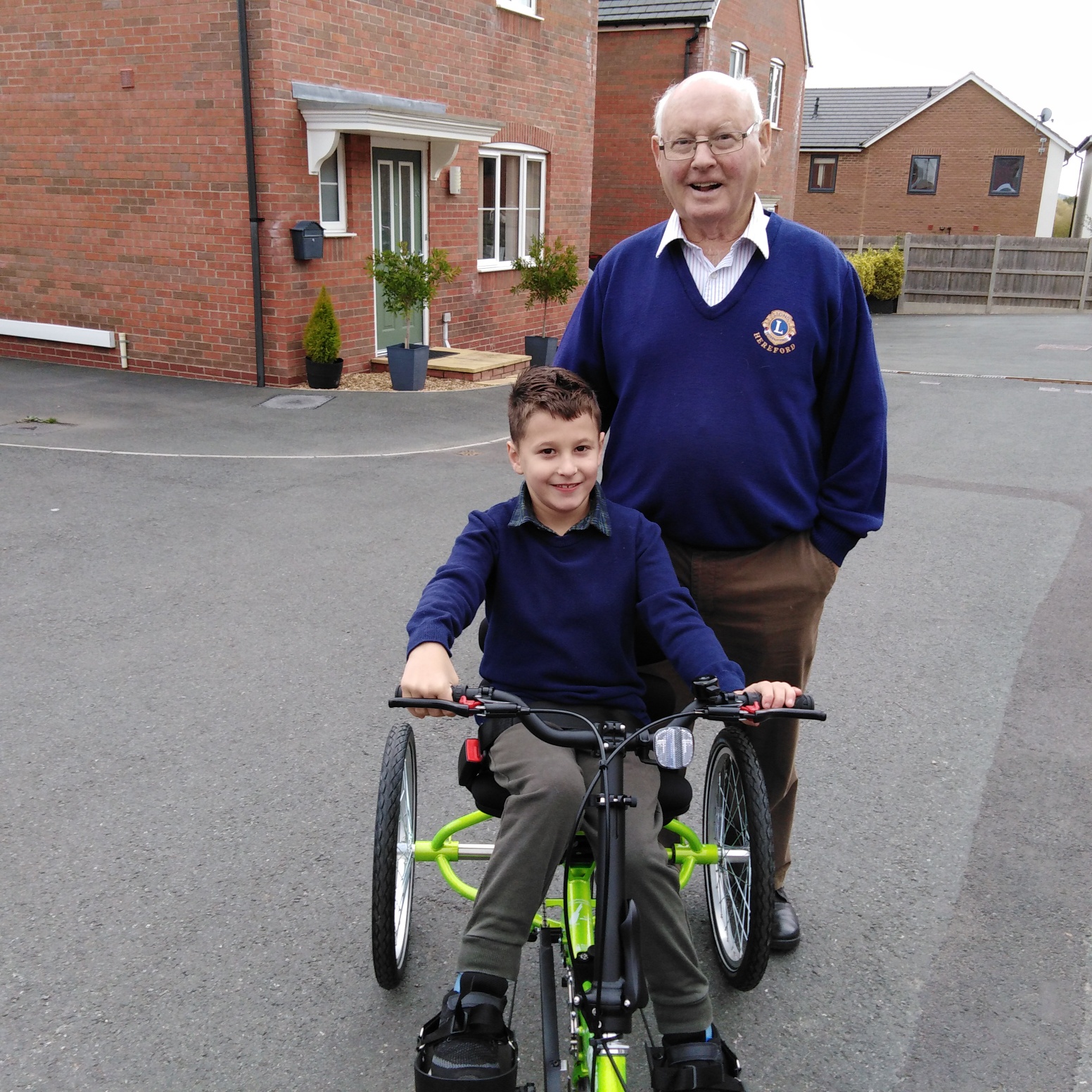 HEREFORD LIONS GIVE SAM HIS WISH
Sam Weale was a happy and active nine year old until he was struck by the rare disorder, Adrenoleukodystrophy
The family, Rob and Sarah and his six year old sister Bethan are caring for Sam at their home in Sutton St Nicolas. When they asked if there was anything special he would like to do Sam said he wanted to fly in a helicopter.
Tracy Lowe, a children's community nurse contacted Hereford Lions Club who in turn got in touch with Alan Ramsden, owner of Tiger helicopters based at Shobdon aerodrome who immediately offered to take Sam for a ride in a helicopter, together with the family. They flew over their home in Sutton St Nicolas and the village school he attends.
His mother, Sarah, herself a nurse said : ""It was a wonderful treat for Sam and he was so excited to be flying in a helicopter, thanks to Lions Club and Alan Ramsden."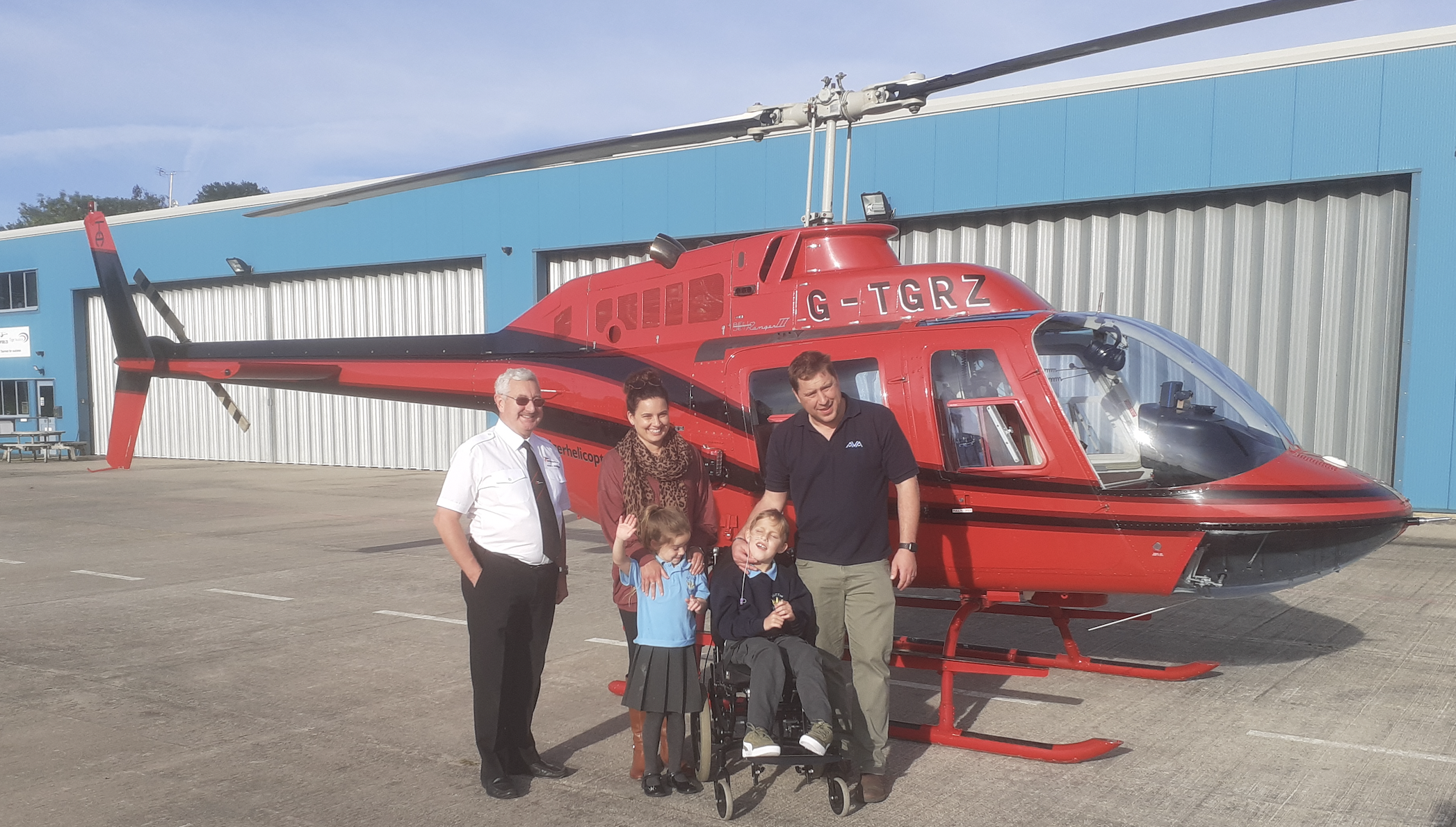 Ready to fly: The pilot, Alan Ramsden and the Weale family

LIONS GOLD DAY RESULTS

Hereford Lions Club's annual charity golf tournament at the Wormsley golf club was won by a four man club team of (l to r) Richard Ford, Tom Chadwick, Alan Densley and Ken Ford on a score of 103 points, pictured with the Lions Club President Lion Sian Bayliss. Runners-up were Emyr Saer, Dave Gwynne, Dave Knapper and Colin Farr on 101 points. Forty two teams took part.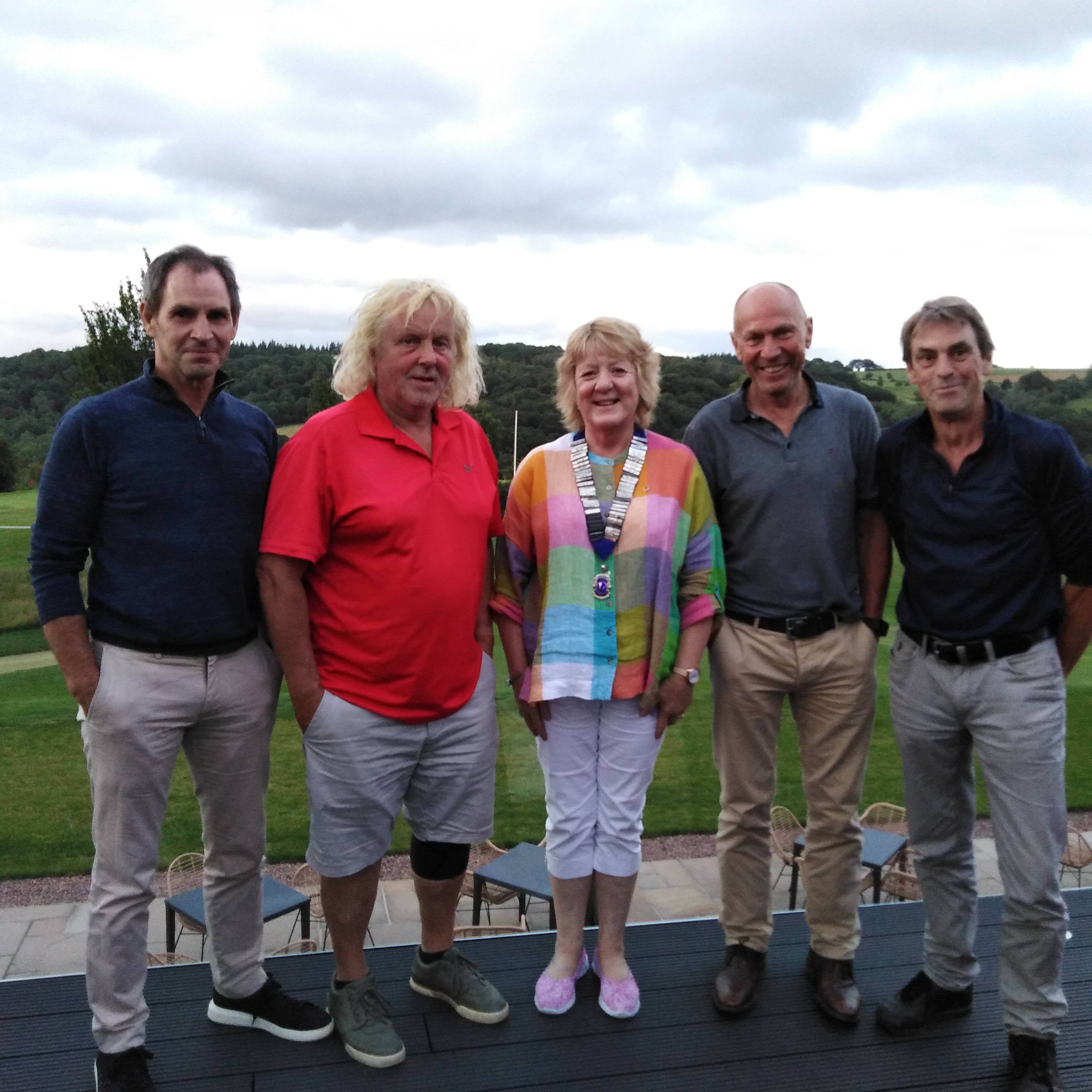 LIONS HELP THOSE WITH VISION LOSS
Lions help fund long awaited project to improve the facilities for those with vision and sight loss. The Widemarsh Street base was originally a merchant's town house, built in the mid eighteen hundreds and the rooms are used for a variety of activities.
Chief Executive John Eden said: "Vision Link is very grateful for Hereford Lions Club's support of our extensive refurbishment of the member's areas. The building is very well used by members and clients and the Lions finance is vital to achieving a refreshed and welcoming environment for those living with sight loss."
Sian Bayliss, the Lions Club's president, who chose it as her presidential project, said: "Caring for those in the community who need extra support is one of Lions International's key objectives."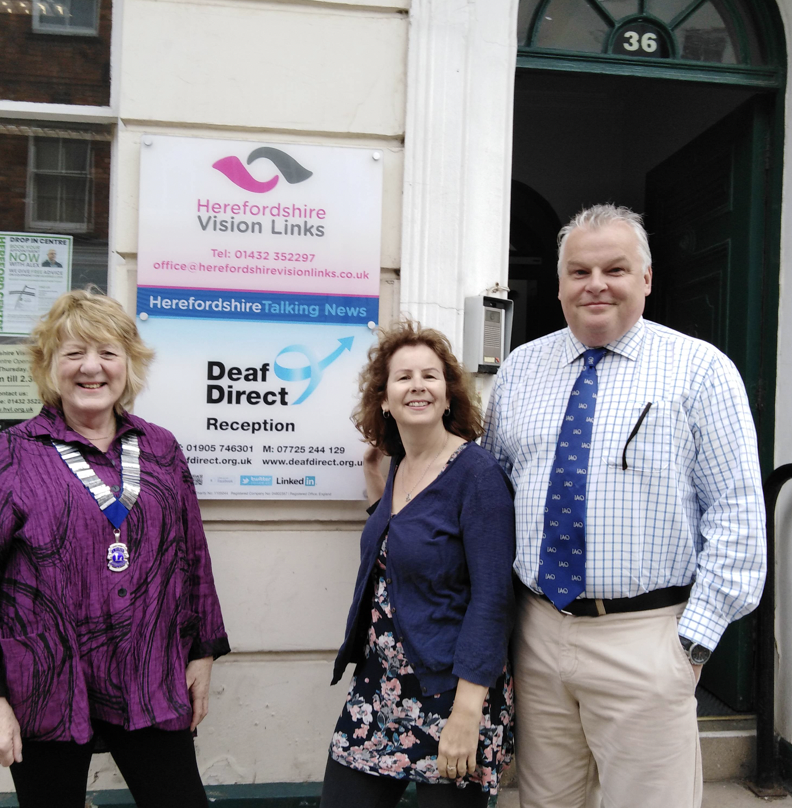 In the office: Lion Celia Field and president Sian Bayliss with Vision leader John Eden and volunteer co-ordinator Julie Cavanagh

LIONS CLEAR THE STREET OF LITTER
Hereford Lions Club has added seven bags of street litter to the 150cw District target for clubs to collect 2022 by next year in a series of litter picks in their communities . President Sian Bayliss led her team, (some pictured) on their first outing.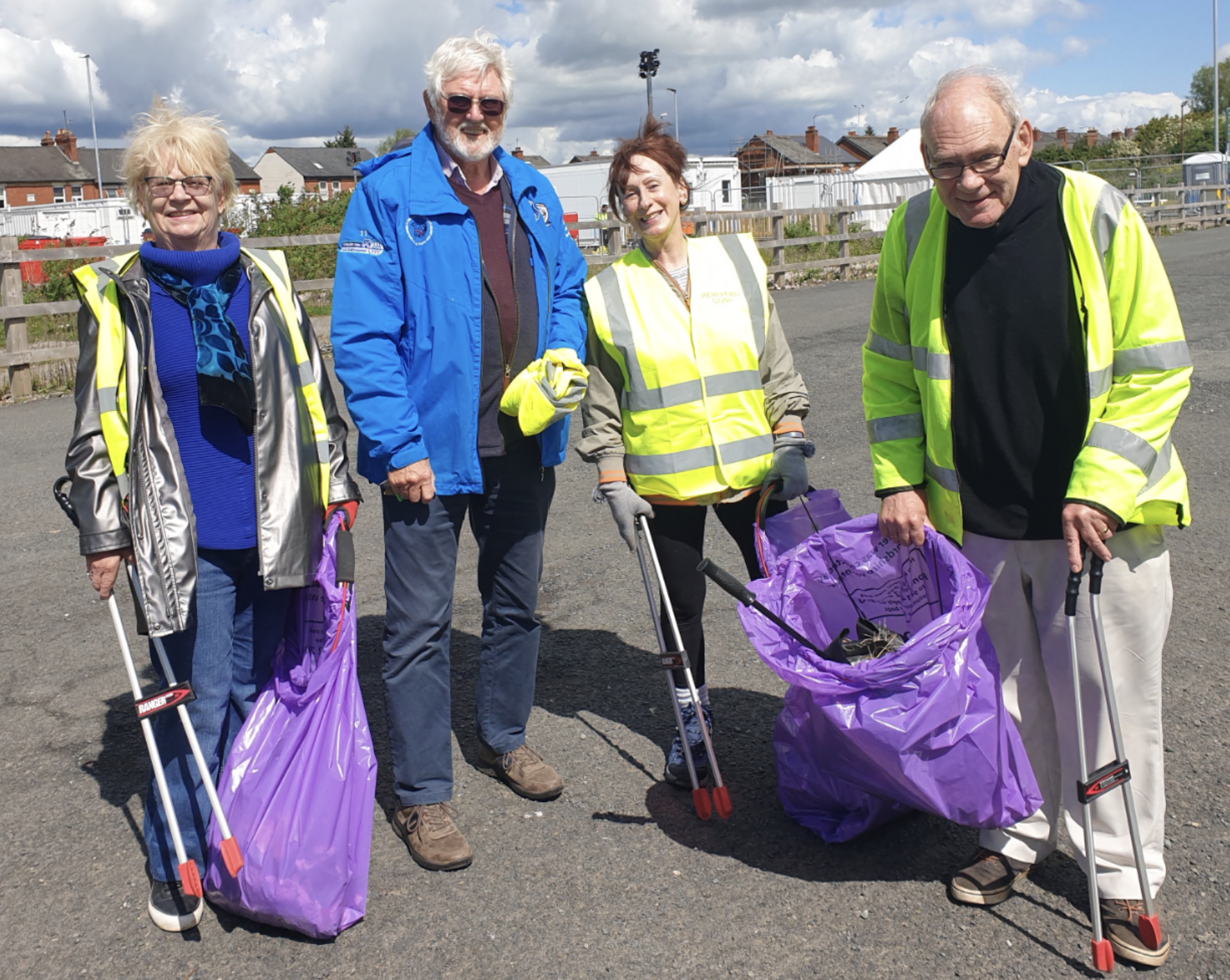 NEW BREAST PUMP TO HELP MOTHERS WHO ARE UNABLE TO FEED THEIR BABY.

The club has bought a £1,600 electric breast pump for Hereford County Hospital's neonatal service to be loaned to mothers, in addition to a number of breast pumps already available to them. Sian Thorne, children community nursing team leader at Wye Valley NHS Trust, said: "This is a brilliant donation from the Lions Club. We provide support for all mothers with their infant feeding choices. However, some women who want to breast feed are not able to do so long term and the Lions pump will help overcome this."
Lions president, Sian Bayliss, herself a retired nurse (right presenting the pump to Sian Thorne) said: "Helping with a baby's start in life supporting mum's who want to breast feed but are having difficulties was an important project for the club."
The club's fundraising events for community support have been abandoned since Covid19 flared up in March last year and it is hoping to be able soon to re-start the weekly car boot sales, the annual golf tournament on August 6 and the monthly pub quiz at the Bay Horse.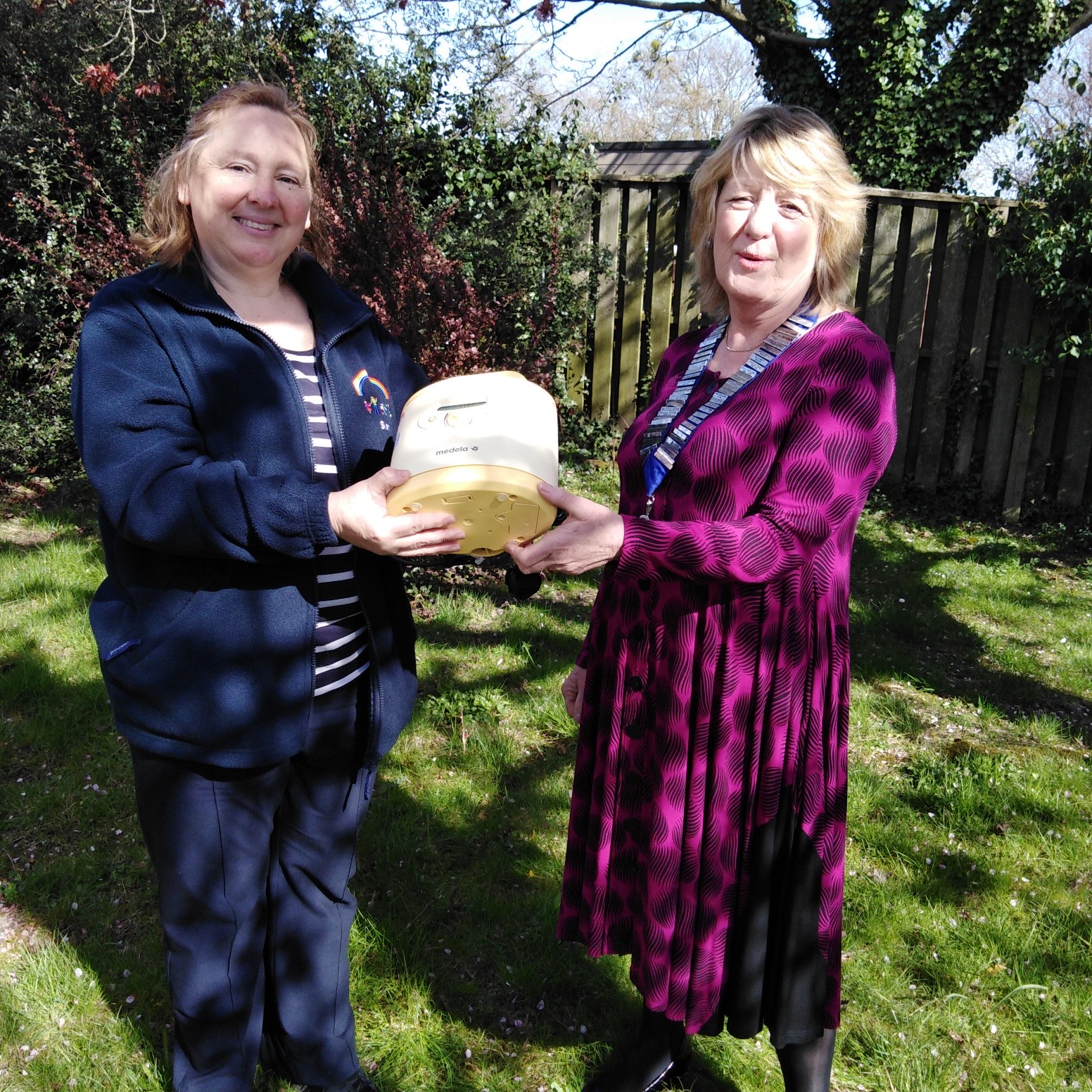 Lion's president Sian Bayliss (right) presents the breast bump to Nurse Sian Thorne

LIONS AWARD FOR WALLY

Hereford Lions Club has recognised Wally Bowles' forty years playing Santa when the club brings Father Christmas to the city. Lions president, Sian Bayliss presented the 93 year old retired teacher with a framed certificate praising his support for the club and it's annual special treat for the children.
Wally, born in Glasgow joined the RAF as an apprentice when he left school at 15, served as a gunner on bombers in the second world war. Back in civilian life, he worked in the building trade before training to be a teacher and arriving in Hereford to join the staff at Haywood School, now known as Hereford Academy . He lives in Credenhill.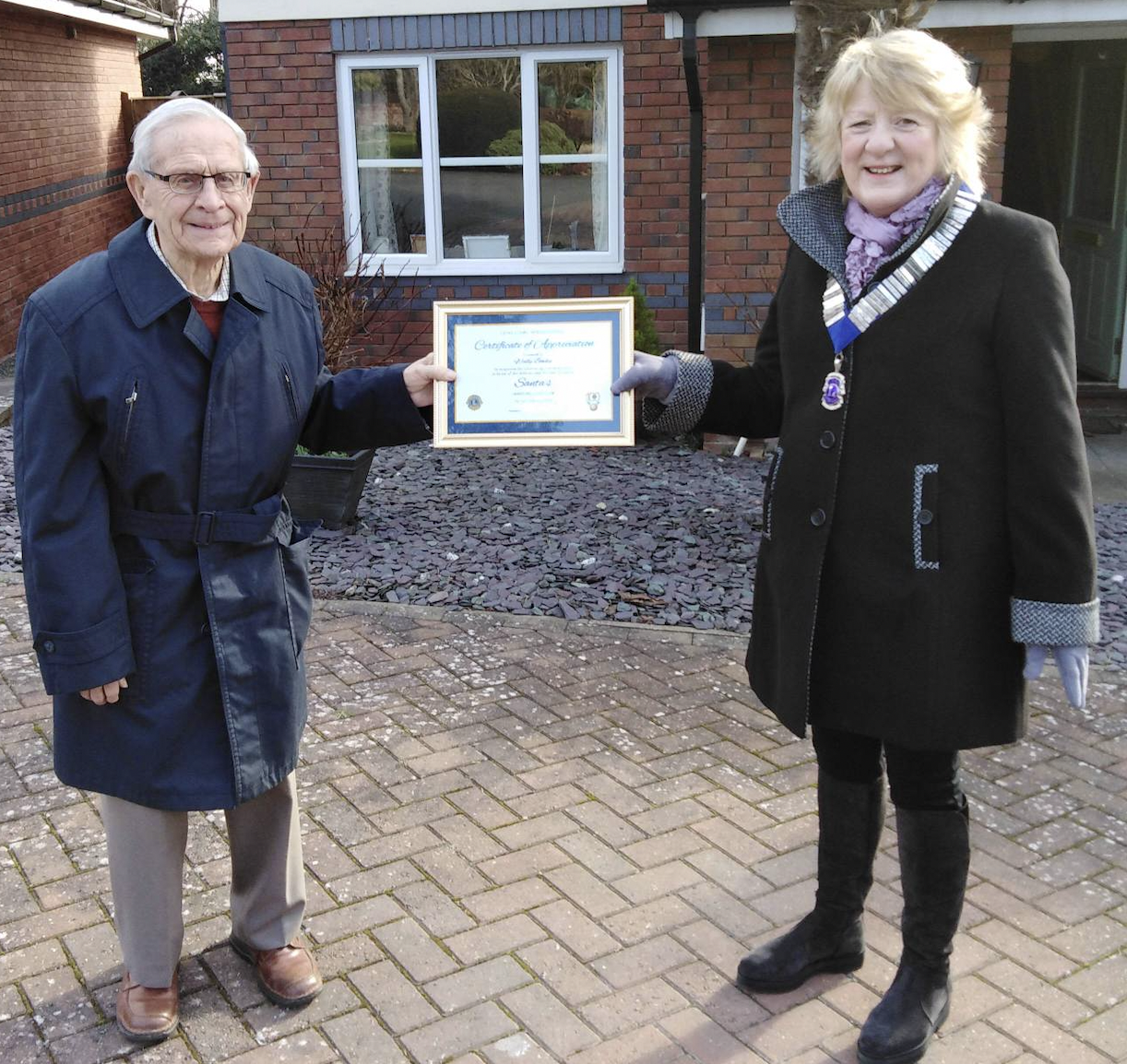 Wally receives his award from Lion Sian.

LIONS HELP THE DISABLED

Hereford Lions Club has been serving the community for sixty years in many different ways and one of its latest projects has been a big success helping the disabled. The club recycles mobility aids donated by families when they are no longer needed and give them to disabled people without the funds to buy one. They range from mobility scooters, wheelchairs to walking aids.
Project leader, Lion Terry Williams said "Families are exceptionally generous and their support has benefited many people struggling with mobility problems."
To make a donation or request an aid contact Lion Terry on 01432 276948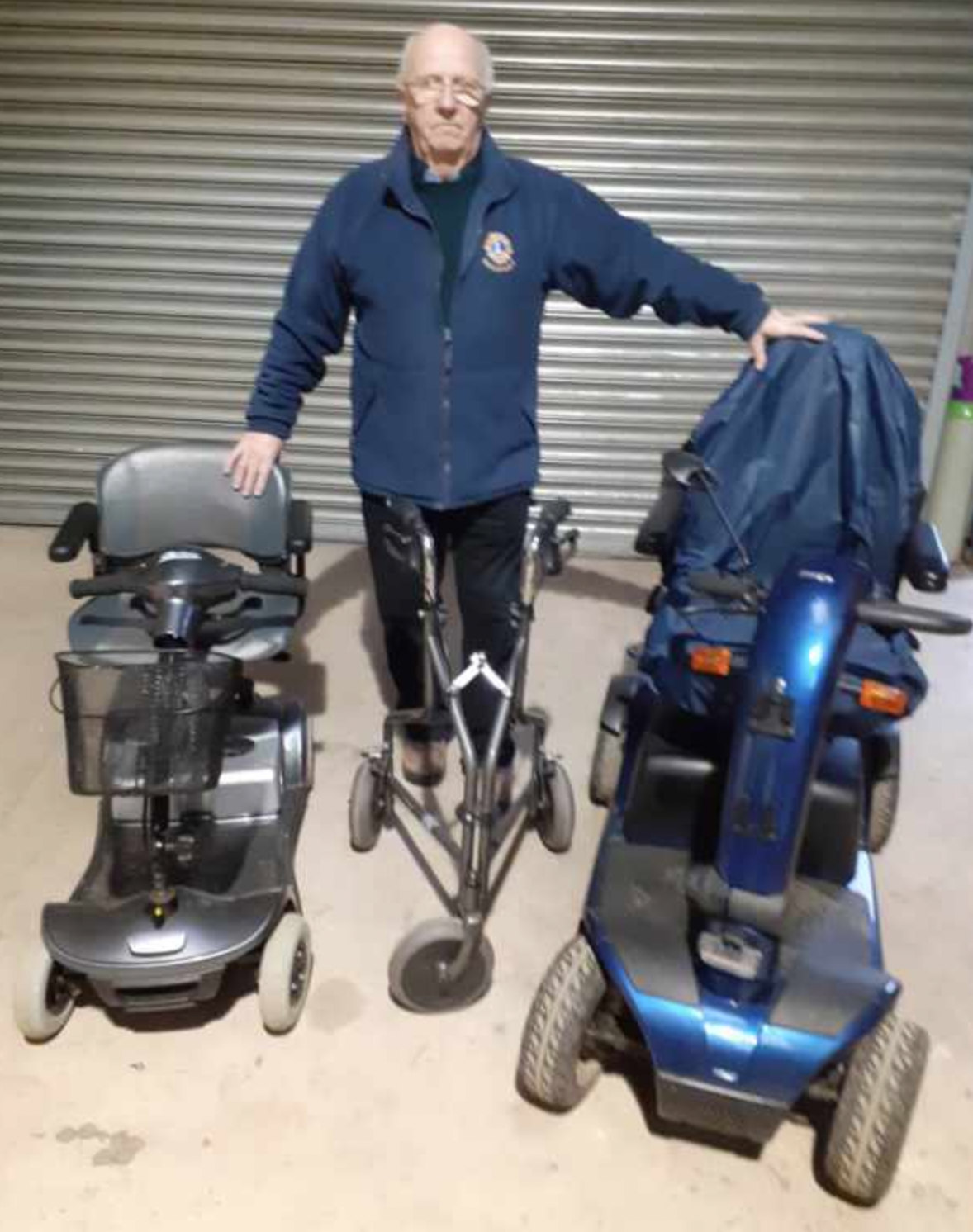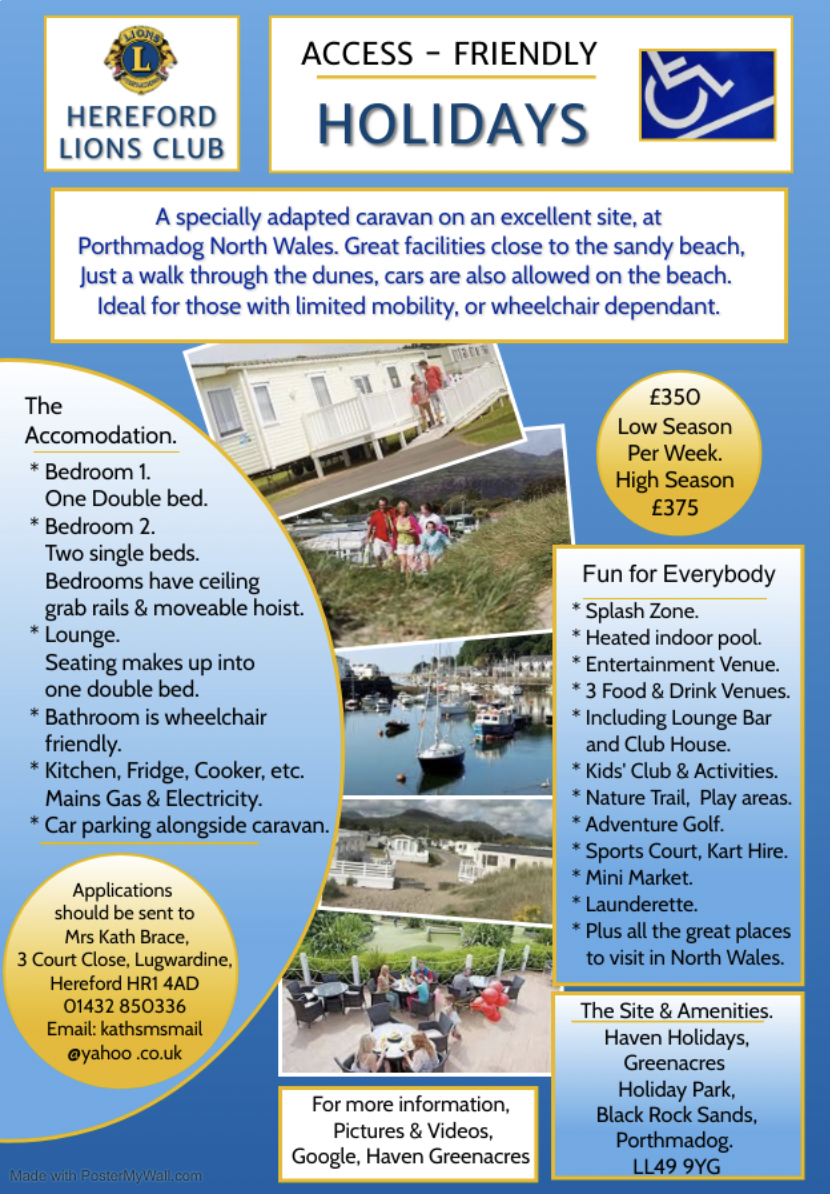 A NEW LION
The latest new member of Hereford Lions Club is Diana Stevens, a retired employee of Nationwide building society living in Belmont. To keep in line with Covid19 rules President Sian Bayliss invited Diana to her garden to be badged up. New members always welcome. Contact Allan Field 01432 487163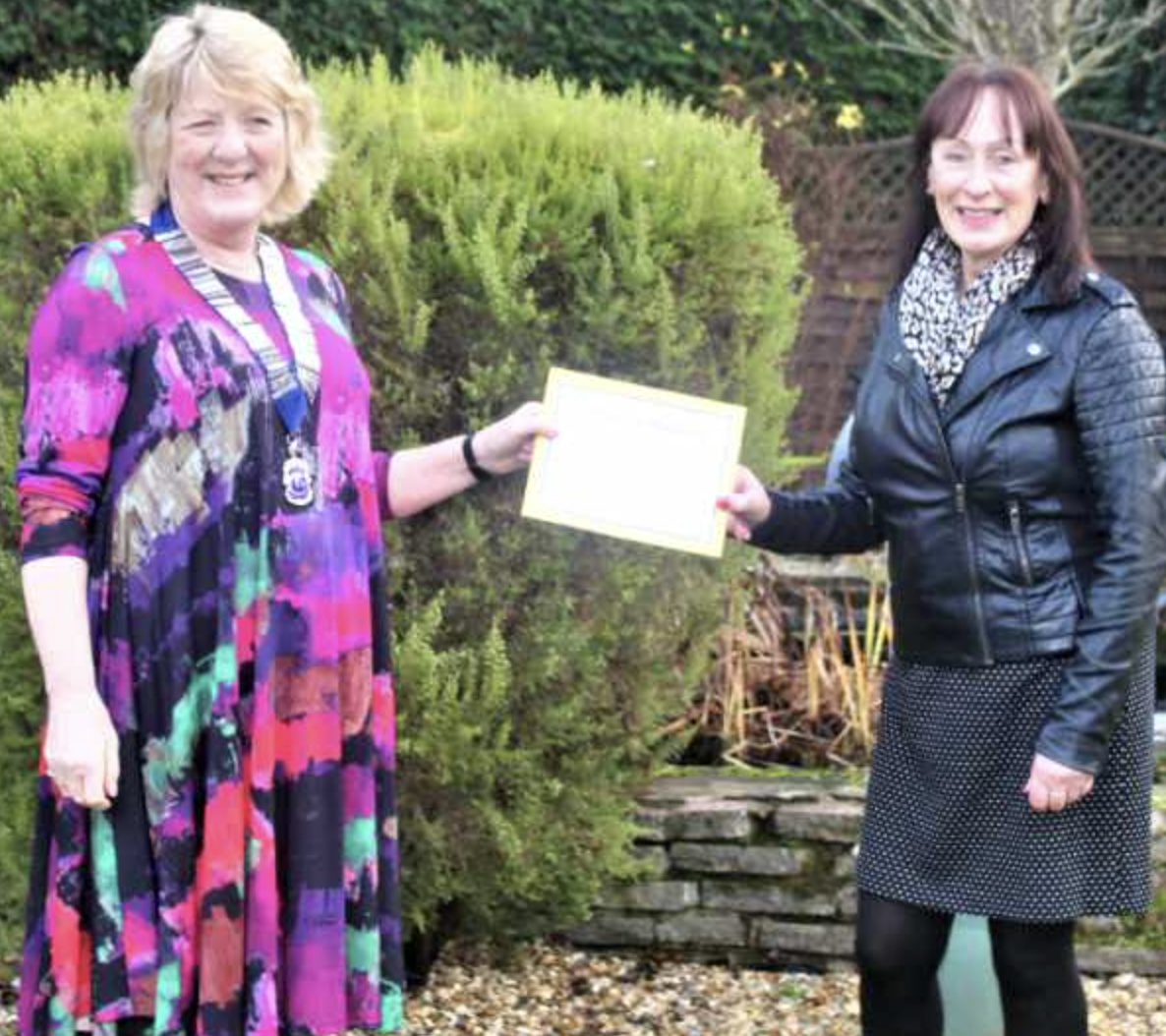 INTERNATIONAL AWARD
Colin Smith a long serving member of Hereford Lions Club has been awarded a special Lions International Centenary honour, recognising his outstanding role in reforming Kington Lions Club after the original club collapsed. A native of Kington , Colin worked tirelessly with a small group interested in reviving the club, using his experience at Hereford as a former president, secretary and Zone chairman. Three years later Kington is a thriving Lions Club with 18 members and about to become 20. Their President, Doug Clark said: "Colin played a a key role in guiding us to establish a new Lions Club in Kington and he deserves the award."
Photo: Hereford Lions president Sian Bayliss presents Colin with his special badge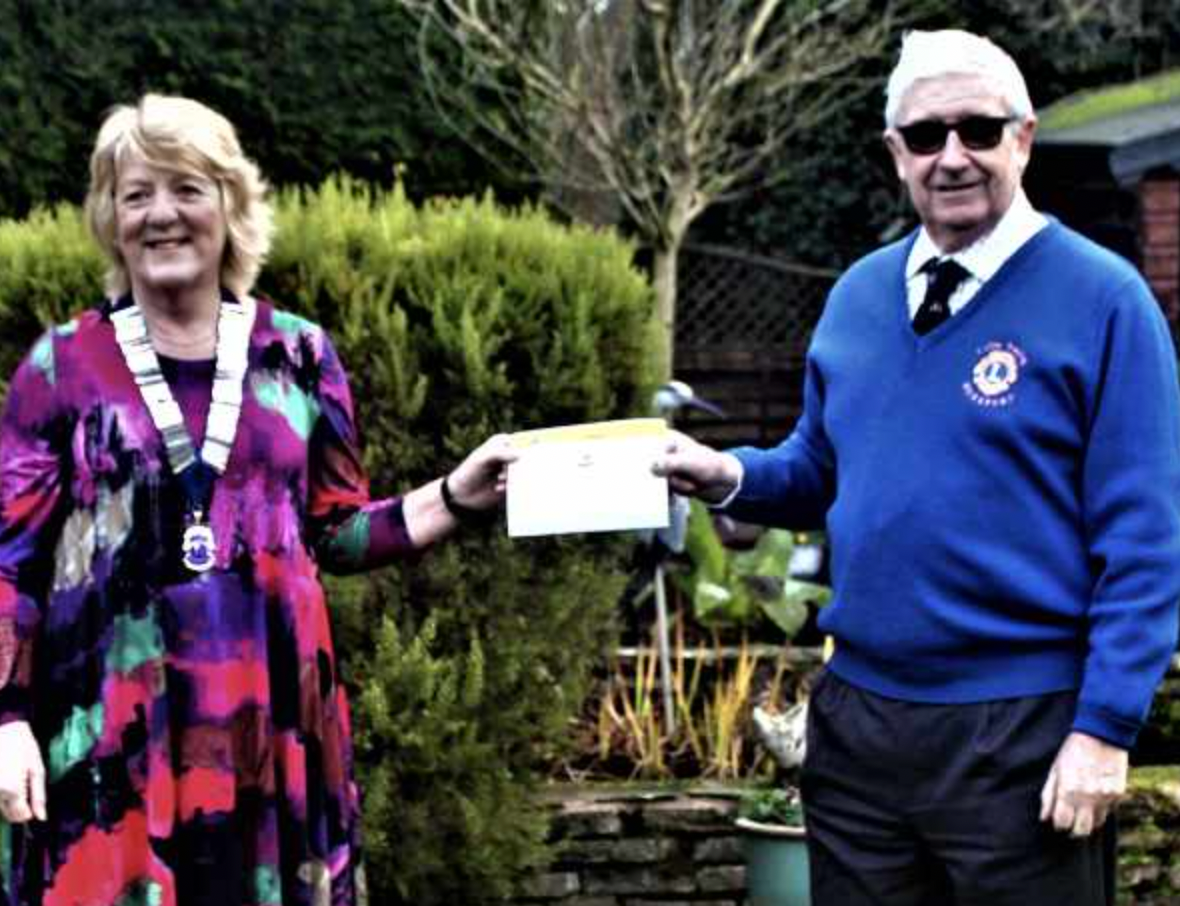 OAKCHURCH DONATION HELPS LIONS
Oakchurch farm shop has regularly hosted Santa's Grotto but this Christmas the terrible Virus ruled out his visit, disappointing thousands of children. It was a big blow also for Hereford Lions Club who organise the popular Father Christmas activity for the community.
Donations from visiting families help Lions support local charities and Oakchurch kindly filled the gap with a £4,000 donation to Lions Club.
Nick Price (left) with Santa who has been touring city streets, but not stopping, is a partner in the family business at Staunton On Wye. He said: "Hosting Santa each year together with Lions Club is a privilege and we wanted to recognise the outstanding work the club does in the community. We look forward to Santa being with us next Christmas."
Lion John Edmunds (right), the Santa Grotto team leader said: "All our fund raising events during the year had to be abandoned, so we are grateful for the much welcomed gesture by Oakchurch."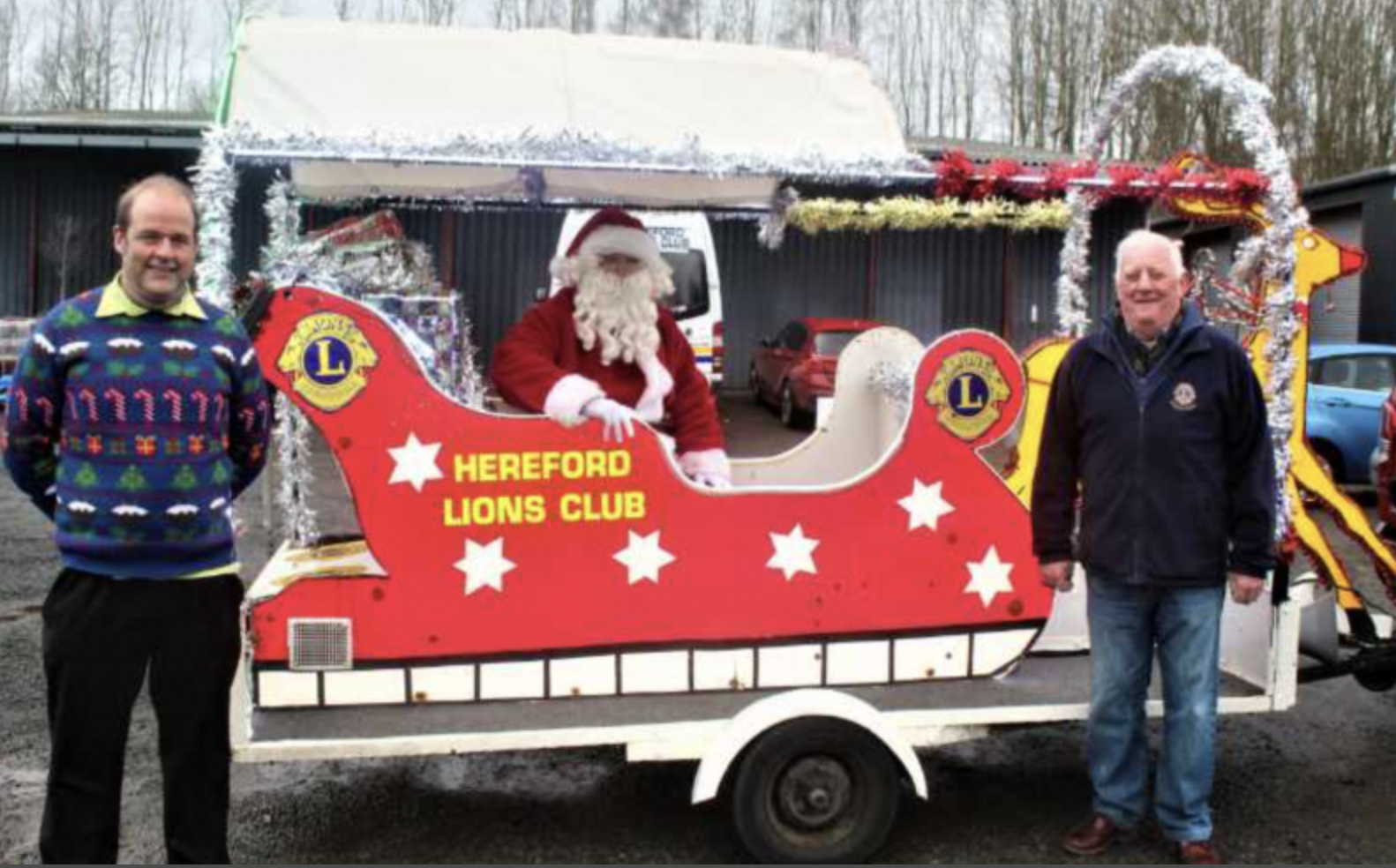 LIONS REMEMBER JIM
Visitors to the volunteer restored Blackfriars Rose Gardens in Hereford now have a smart new bench to sit and admire the magnificent display of hundreds of roses, including a bed planted by Hereford Lions Club, alongside the ancient ruins of the 13th century Blackfriars monastery .
The bench has been donated to the garden by Louise Hamilton as a memorial to her husband Jim who died in May, aged 80, an outstanding member of Lions Clubs International , which he joined in 1983 in Surrey.His Lions record is on the plaque as a permanent reminder of Jim's community support work over almost forty years. He was president of Hereford Lions two years ago and also of Ross-on-Wye Lions after the family retired to the town in 1996, moving near to Hereford seven years ago. He had also served as District Governor of former 105W and, as a computer software expert, chairman of the Lions national information technology committee.
Sian Bayliss, the new , and first woman president of Hereford Lions in its 60 year history, paid tribute to Jim, her personal sponsor just three years ago.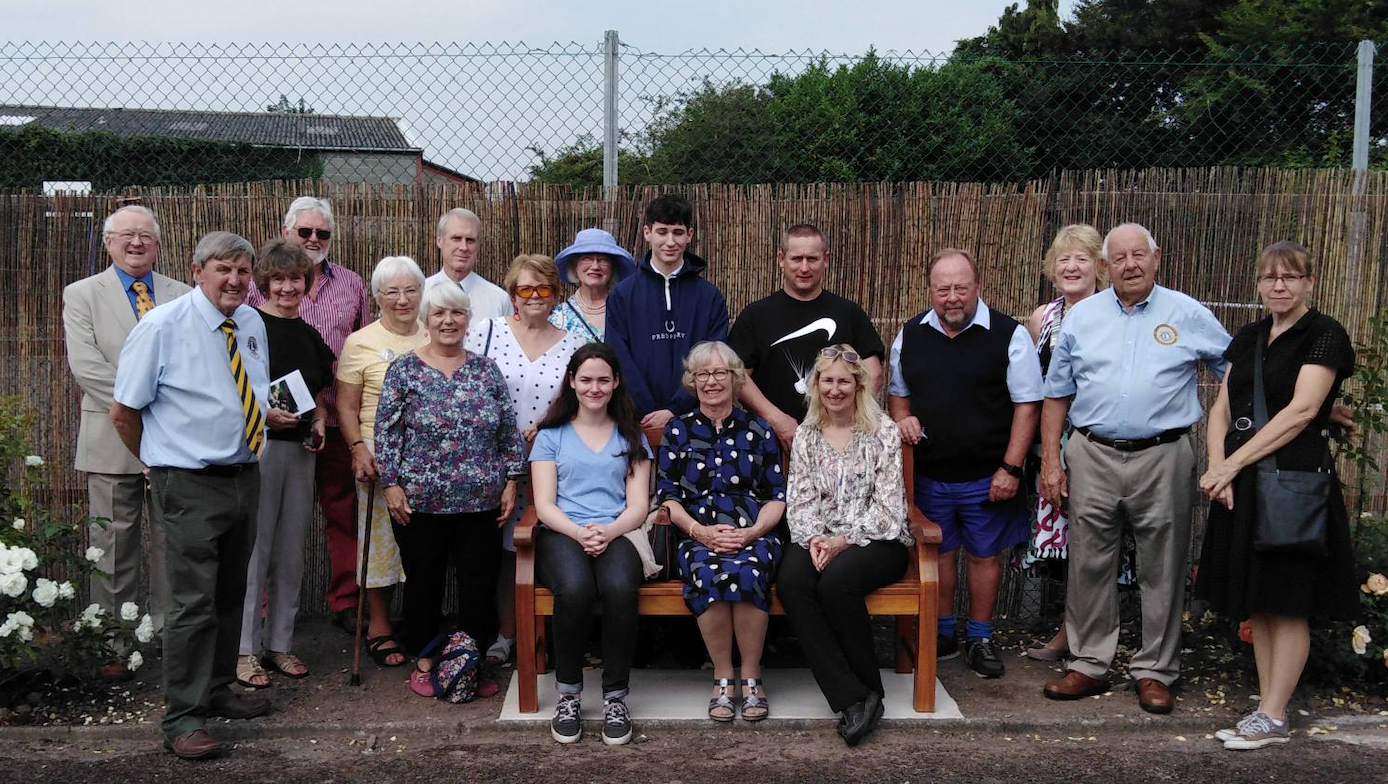 Fellow Lions join the family for the dedication of Jim's bench.


FIRST LADY IN CHARGE OF LIONS
Hereford Lions Club, founded 60 years ago has elected it's first lady President. Sian Bayliss, a retired nurse will be 'Chief Lion' for the next two years rather than the usual one – another first for the club. She joined Lions three years ago when the city club opened its doors to women. She will be encouraging more women to join the club.
A native of Holywell in North Wales, Sian trained as a nurse in Liverpool and devoted her early medical skills to VSO (Voluntary Service Overseas) in Nigeria.
She and her husband Richard, also a Lion chose Hereford as their ideal retirement home when they moved from Bedfordshire six years ago and have quickly integrated with the community, taking on Pastoral Care at Holy Trinity Church, Whitecross, joining U3A (University of the third age) and Sian is a member of Tupsley WI.
Sian's president's project will be supporting Herefordshire Vision Links who care for those who are blind or have poor vision. But her first task is to get Lions Club up and running again after the three month coronavirus lockdown halted their twice monthly meetings at the Welsh Club and key fund-raising events: car boot sales, pub quizes, race night, golf tournament and clay pigeon shoot.
She said: "Lions Club remains dedicated to supporting community projects and charities and will re-launch its popular fund raising events as soon as lockdown permits it." Adding: "Lions offers friendship and fellowship to men and women from all walks of life whilst they are making a worthwhile contribution to the well-being of the community."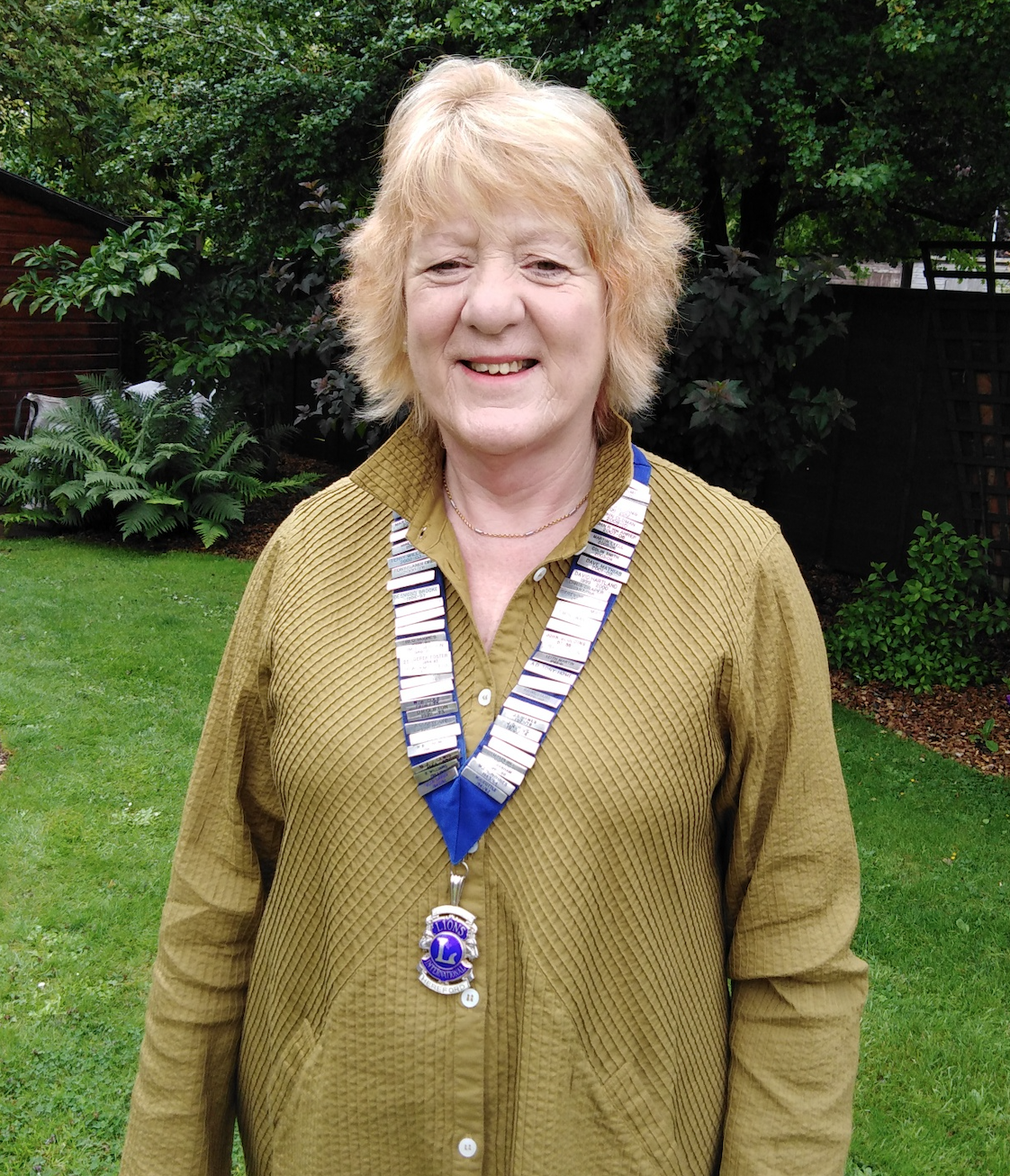 Sian Bayliss – new president of Hereford Lions Club

A DEDICATED LION

Lion Jim Hamilton , a former president of three Lions Clubs, a District Governor and IT advisor to Multiple District has died at his home in Allensmore,aged 80 (May 14). He was particularly proud of his Scottish ancestry and would wear his kilt and sporran at official Lions functions.
Jim joined the international community service organisation in 1983, later becoming President of Surrey Borders Lions Club before moving to Herefordshire in 1996 and joining Ross-on-Wye Lions Club where he also served as President. He was briefly a member of Forest of Dean Lions club before a move to the Hereford area seven years ago saw him become a member of the city club and completing his trio of presidencies.
A retired computer software consultant , Jim was a former chairman of Lions national technology committee and also served as District Governor in 2004/5 in the then Lions 105W district , now part of District 105CW.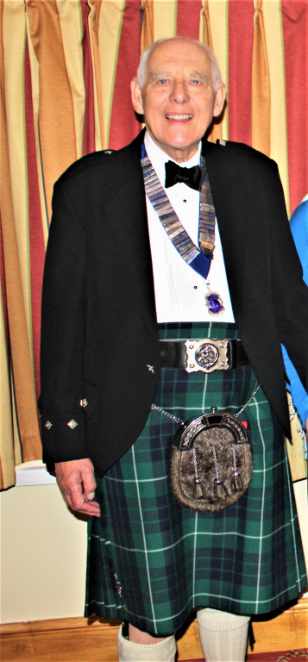 Jim in his Lions regalia plus his kilt.


LIONS STORY TELLING COMPETION
Pupils at Hereford Primary Schools, taking part in a story writing competition created by Hereford Lions Club were told they could be taking the first step to an exciting career when they grow up.
More than a hundred children from seven of the city schools wrote stories, the 11 winners , second and third in two age groups receiving book tokens and a book signed by the Mayor, Cllr Kath Hey and the judge, children's author Jasper Fforde who presented the prizes. Each of the schools, St Paul's, St James, Lord Scudamore, Riverside, Broadlands, Trinity and Holmer had a set of a dozen books for the school library.
Jasper , who lives in Clyro speaking to the story writers said: "The awards represent a first step on a journey to a rewarding and exciting career. Creative writing has never been more in demand . Even if you decide a writing career is not for you still write for yourself for it will make you a more creative person – and creativity is the key to everything."
Gill Tudor, a new member of Hereford Lions came up with the idea of a children's story writing competition ."An avid reader myself, I knew the importance of children learning and enjoying reading, and writing their own stories would be even better." she said.
AID FOR FLOOD VICTIMS
Hereford Lions Club has donated £2,500 to the Herefordshire Community Foundation appeal fund to help the families whose homes were wrecked by the flood disaster when the River Wye reached record levels.
Club member, John Burden and his wife Lindy were on holiday in Thailand when they heard the news Lions were giving £2,000 and quickly added a personal £500 to the club donation.
Club president George Thomas said: "We are more used to sending donations to Lions International Foundation to aid disasters overseas, but responded immediately when some 300 families in our own community had their homes swamped by one of the worst ever floods. Many could not get insurance."
HEREFORD LIONS HELP TACKLE DEMENTIA AND LONELINESSThe club's loneliness campaign offers grants to help groups or individuals set up community activities to benefit those suffering from the effects of being lonely. Several new projects have been set up - volunteers invite people living alone to a regular tea party in one of their homes; Another scheme offers to drive people to local social events;
Similar grants are now available to help communities set up activities and embrace those with Dementia to join in. Memory loss is the plague of Dementia and socialising is an important part of treatment. The most innovative part of the club's dementia project is providing care homes and families caring for a family member with a set of three video films of life in Herefordshire from the fifties plus historic photographs.
Lions president George Thomas said: "The locally produced films, donated to more than 40 care homes will rekindle lost memories for the elderly, especially those affected by Dementia . Those organising activities in a care home have been delighted with the donations."
George added: "Hereford Lions Club this year celebrates 60 years of service to the community and wants to help overcome some of the terrible affects of Dementia."
HEREFORD LIONS SOLVE SCANNER PROBLEM
Hereford Lions Club has bought a £8.824 bladder scanner for the Urology department at the city's county hospital after Keith Martin, one of its members made several visits to the department for check-ups on his bladder only for the vital scanner to be regularly out of action. He was told the unit was desperate for a new, up-to-date scanner, but NHS funds were not available. When the club heard Keith's story, his fellow members decided to pay for a new scanner, a blessing for the huge number of patients suffering with bladder problems, but often having to make repeat visits if the scanner wasn't working.
Said consultant Mr Mehmood Akhtar :"The gift from Lions Club will ensure the efficient running of the department and no more delays for patients needing to establish if they have bladder problems and require medical attention."
It was given to the hospital in memory of Stan Austin, a highly respected city businessman who died in February last year. Stan was a member of Lions Club for many years and left a £20,000 legacy to the club's charity fund.

Keith Martin hands over the scanner to the medical team (l to r) Carina Allaway, Angie Morris, Jayne Taylor, Keith Martin, Mehmood Akhtar

LIONS TACKLE LONELINESS
Hereford Lions Club has set up a special fund to help tackle loneliness in our communities. Grants will be available to organisations or voluntary groups wanting to set up clubs or activities to benefit those suffering from the effects of loneliness, a growing trend in modern society.
Their health and well being can be seriously impaired, a situation recently recognised by Government. Its not only the elderly effected; a recent survey showed young people are also at ridsk.
Mike Hughes leader of the Lions community support team which is already involved with the elderly and the handicapped, said: "We believe there is much more direct action that can be taken by voluntary groups in communities to help relieve the impact of loneliness and the Lions Club offer of financial support will help to get them started."
Mike can be contacted at:
[email protected]
GREAT RESPONSE TO LIONS LONELINES CAMPAIGN
Communities across the county are responding positively to the campaign to help relieve loneliness and several responded quickly to the offer by Lions Club to give grants to projects set up to beat the impact of despair on the lonely. Lions Club urges more to apply for grants of up to £250
The first application was from Bodenham Compassionate Community, newly set up by retired doctors, Richard and Karilyn Collins. Trained volunteers, working closely with the local GP Surgery visit people in their homes to help them overcome loneliness and reconnect with the community. This could be the start of a countywide scheme. Carol Condie spotted a mention on TV about 'Contact the Elderly' a project to invite lonely old folk to afternoon tea parties and quickly set up her own city team of volunteer drivers and party hosts and has 11 on the 'guest list'.
Burghill Good Neighbour Scheme was set up two years ago and volunteers visit those who need a helping hand ranging from collecting prescriptions, form filling, running errands to changing a light bulb. Perhaps most important on the list is 'befriending' and the social events to combat loneliness and social isolation. Garway has a Tuesday Club for the elderly and has extended this by offering lifts to local events and the Lions grant will help fund extra activities.
Herefordshire is a caring and generous community and Lions Club looks forward to receiving more grant applications for its 'Beat Loneliness' campaign.
CASH FOR HOSPITAL PROJECTS
Hereford Lions Club has donated £15,000 to help fund two key projects at the County Hospital.
£5,000 was contributed to the £75,000 Born Sleeping appeal to create a delivery suite, family bedroom and counselling room in the maternity unit for parents whose baby does not survive. It's a first for the hospital and aims to give grieving families private space to cope with their loss and receive counselling. The fund target was reached and work has started.
A £10,000 donation has been pledged to the Prostate Cancer unit at the hospital to purchase a much needed £30,000 replacement sample testing machine; a gift in memory of those fellow Lions Club members lost over the years to prostate cancer. The new machine will speed up the delivery of sample tests. Before the County Hospital established its own Prostate unit a few years ago, patients faced long and tiring journeys to Cheltenham or Birmingham.


Photos: Maxine Chong, head of midwifery with President Lion Jim Hamilton and Lion Simon Swancott checking the Born Sleeping appeal target.
Andrea Harvey, senior medical scientist shows Lion Jim the sample testing machine which urgently needs replacing.

LIONS BUY HOLIDAY CARAVAN
Hereford Lions Club has bought a seaside caravan in Portmadoc, North Wales, especially designed and built to provide holidays for county those with disabilities and their families. The caravan is on a holiday park at Black Rock Sands which has excellent facilities. It sleeps six. The rental charge is low, being subsidised by Lions Club. Guests have to make their own travel arrangements. Applications should be sent to Mrs Kath Brace, 3 Court Close, Lugwardine, Hereford HR1 4AD. 01432 850336. E mail:
[email protected]
Photo: The holiday caravan.
LIONS SUPPORT RESTORATION OF CITY ROSE GARDEN.
Hereford's long neglected historic rose gardens next to the ruins of Blackfriars Monastery in Widemarsh Street built in 1276 is being restored by a newly formed Friends group of volunteers who are planting hundreds of new rose trees in 29 beds. And Hereford Lions Club did its bit, donating £800 and planting one of the large beds.
Photo: The Mayor, Cllr Sue Boulter joins the Lions to check their rose planting work.
THE BEAST DEFEATS COUNTY QUIZ FANS
Hereford Shire hall was packed with quizzers all wanting to beat The Beast, Mark Labbett star of The ITV quiz show The Chase, who lives in Bartestree. None of them beat the super quiz man at the event staged by Hereford Lions and Radway Bridge Garden Centre in aid of the MS Society
The three highest scorers went head to head against Mark in the final but failed to defeat the towering 6ft. 6in TV quiz champion who also performs on The Chase in America and Australia.
The trio are pictured l to r with Mark: Katy Chambers, 27 of Whitecross was a good bet to win having already been a TV winner on The Chase and a £125,000 winner on Who Wants To Be A Millionaire? The others were Andrew Bailey of Little Dewchurch and Matt Taylor, of Bartestree.
TOPGUN
Winner of Hereford Lions Club Clay Shoot was Matt Pugh with a score of 54 out of 60. Runner-up was Julian Morris 52 out of 60 and third place was a joint result, Ian Palmer and Carl Bloxham on 51-60 each. Matt (left) is pictured receiving the Lion's trophy from shoot organiser Martin Exell
LIONS GOLF WINNERS

Hereford Lions Club's long running annual charity golf tournament at The Herefordshire Golf Club on Friday, August 2,attracted 46 teams of four and the winning foursome with a score of 119 points was: (l to r) Derek Porter, Kate Owen, Rob Waring and Tony Gwynne. (pictured with their golf bag prizes) Team captain was Rob Waring who is chairman of the club's green's committee. Kate, who lives in Burghill is a Mid-Wales Air Ambulance team member based in Welshpool and won the women's prize for the longest drive on the 11th.
Runners up were Matthew Edwards, Jason Tobin, James Williams and Richard Turner with 105 points. In third place were brothers Len Andrews and Phil Andrews, Ken Morris and David Morris with a score of 104.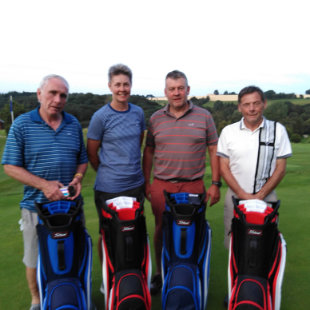 HATTRICK OF GIFTS FOR RIDING FOR DISABLED.
Herefordshire Riding for the Disabled based at Holme Lacy was well supported by Lions Club in a 12 month period. First a new horse was bought for £5,000 followed by a tractor costing £4,000 to lift the horses bales of feed and finally a new hoist costing £2,800 to lift handicapped riders into the saddle.
Photo: Lion Ian Foster hands the tractor over to Rachel King of RDA
GIll JOINS THE LIONS

Lions Club welcomed Gill Tudor, its latest new member at the last meeting Gill, a grandmother and retired catering manager at the Madley Satellite Station is secretary of Tupsley WI. Her hobby is jive dancing. She is pictured (centre) with club president Jim Hamilton and her sponsor Sian Bayliss. New members are always welcome.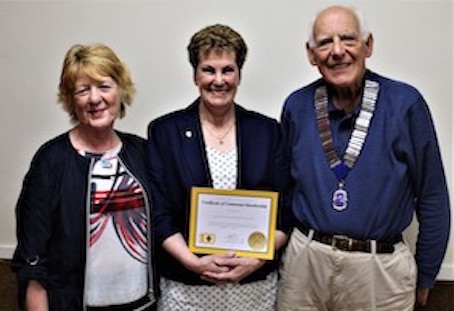 TONY'S 50 YEARS IN LIONS

Retired accountant Tony Cole has received both royal and international commendations marking his half century of service to Hereford Lions Club, part of the worldwide Lions International organisation.
Club president, Jim Hamilton presented Tony, who joined Lions in 1968 with a special certificate signed by Sophie, the Countess of Wessex, Patron of Lions UK and a personal letter from Lions international president, Gudrun Yngvadottr of Iceland.
Tony club president in 1974, created the Lions Club link to an annual youth international football tournament in Holland 43 years ago, taking four schoolboy teams to Vianen , a project which has continued ever since and for the last two years includes a girls' team. He was also one of the founders of the Herefordshire youth football league.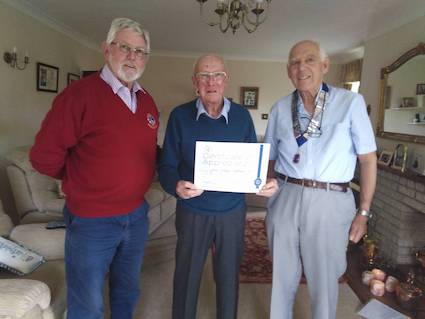 Lions: (l to r) Simon Swancott, Tony Cole, Jim Hamilton


NUMBER ONE FOR COMMUMNITY SERVICE
Hereford Lions Club is the most active community service organisation in the region and this archive of photographs and reports highlighting projects the club has supported in recent years confirms this claim.
NEW LEADER FOR LIONS CLUB
New president of Hereford Lions Club, the city's most active community service organisation is George Thomas repeating a role he played for the first time in 1993. He has been a community service volunteer stalwart since arriving in Hereford in 1970 as a young journalist on the Hereford Times and later as public relations manager at Bulmers for 25 years.
George's first project was the founding of the Herefordshire Talking Newspaper for the Blind and its first editor. He played a key role in the conversion of the old swimming baths on Edgar Street into the Nell Gwynne Theatre and is a trustee of The Courtyard arts centre which replaced it 20 years ago. He served as deputy chairman of the West Mercia Crime Stoppers Trust for ten years and when he retired in 2004 joined the Hereford in Bloom volunteer team responsible for planting and maintaining the city's flower beds and planters.
Lions Club in the last 12 months has distributed £45,000 supporting local charities and community projects. George's targets for the year ahead are support to help tackle the growing phenomena of dementia and loneliness amongst the elderly. He will also be seeking new members to join the Lions Club, which he himself has served for 36 years.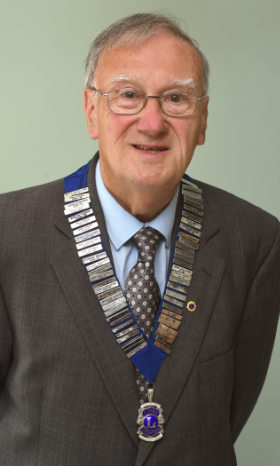 LIONS TEDDIES BRING SMILE TO INJURED GYMNLAST

Top county gymnast Eden McGarvie broke her leg falling off a trampoline during a training session ahead of a qualifier to win a place in the West Midlands team for a national gymnastics competition in April.
The 10 year old Hereford schoolgirl needed cheering up after spending the night in the children's ward at the County Hospital and knowing her chances of competing at a national level was now on hold. Right on cue Hereford Lions Club turned next morning with a delivery of 100 teddies for the children's ward, bringing a big smile to Eden's face when club president Ian Foster presented her with the first one.
Said Ian: "Missing out on a possible place in a major national competition was a huge blow for Eden but seeing her big smile and determination to get fit and be back in training showed just how important the gift of soft cuddly toy is to children facing hospital treatment .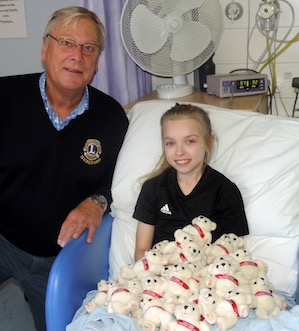 Eden with lots of teddies and Lions president Ian Foster .




SUCCESS OF RECYCLING SCHEME

Hereford Lions Club's latest community project recycling mobility scooters and wheelchairs is proving to be a big success. One satisfied 'customer' Brenda Bayliss summed up the free service: "It's a wonderful scheme, a real godsend for those like me who have difficulty walking and perhaps can't afford a new one. The scooter Lions gave me has given me more freedom."
Families donate unwanted disability aids to Lions who refurbish them and pass them on to someone in need of one. Several are currently available Lion Terry Williams said: "The response has been very encouraging. It makes good sense to find a new home for an unwanted aid for the handicapped."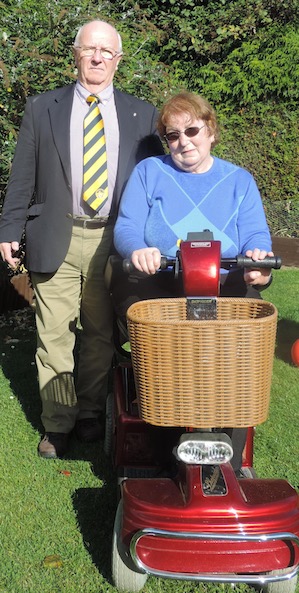 Terry delivers a sturdy scooter to Brenda Bayliss.


AWARD FOR CLUBS YOUNG AMBASSADOR
Hereford's candidate in the District Young Ambassador competition, Georgia Ellis 18 who achieved the runner-up spot attended a club meeting to describe the experience. Georgia is a mentor at the Young Carers group and a Brownies Leader. She plans a gap year in America as an Au Pair and the club awarded her £250 towards this.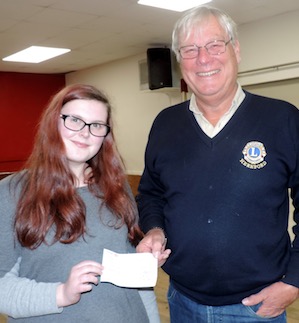 She is pictured receiving the cheque from president Ian Foster.
CENTENARY CHEQUES FOR TEN CHARITIES
To mark the centenary of Lions Clubs International Hereford Lions Club at a reception in the Town Hall presented £1,000 cheques to each of ten local charities.
The celebration was hosted by the Mayor, Cllr Sharon Michael and the guest of honour, Lady Darnley, Her Majesty's Lord Lieutenant of Herefordshire handed out the cheques on behalf of the Club founded in 1960 as part of the worldwide volunteer organisation .Lady Darnley praised the work of the charities and urged more people to become volunteers to help those in the community in need of support as many public services they rely on are cut as a result of the financial crisis facing local authorities .

The ten charities chosen for the donations were: Aspire, which runs the Canal Road day centre; Barrs Court School for children with special needs; The Blood Bikes, volunteers who deliver life saving blood supplies to hospitals, to help fund a motor bike for Hereford; Breast Cancer Haven supporting women living with breast cancer; Dial a Ride, a valued community transport service; Megan Baker House, a great help for children with cerebral palsy; MS Therapy Centre, treating those with MS; Parkinson's Hereford branch, a vital service for those with the disease; Widemarsh Ventures, a workshop for vulnerable adults to learn skills; Young Carers Support, supporting youngsters caring for a disabled family member.

Club President, Ian Foster said: "Our club wanted to make a positive contribution to the community we are proud to serve to remind everyone of the Vision of one man, Melvin Jones, a Chicago insurance salesman who a century ago urged fellow citizens to become community volunteers. The organisation he founded has grown into a mighty global army of men and women volunteers."





Pictured (centre) Lion President Ian Foster with Lady Darnley and the Mayor Cllr Sharon Michael and the representatives of the ten charities receiving the £1,000 cheques.


FIRST LADIES FOR HEREFORD LIONS CLUB
Hereford Lions Club has signed up its first lady members. The pioneers of this former all male club are Sian Bayliss, a retired nurse and Celia Field also retired who was a drug awareness tutor to public sector organisations. Their husbands, Richard and Allan have also become members of the community service club which has played a key role supporting local charities since 1960. Two couples joining is also a first for the 40 strong club.
Said club president Ian Foster: "Women have an important part to play in helping the worldwide Lions International organisation, this year celebrating its 100th anniversary build on its reputation as a global community support leader, and Hereford Lions are delighted to welcome Sian and Celia as our first lady members.."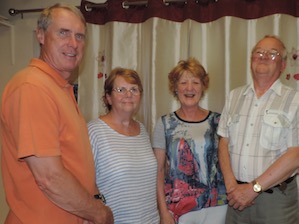 TROJAN IS NEW RECRUIT TO RIDING FOR DISABLED

Ian Foster's first official duty as the new president of Hereford Lions Club was to present a new horse to Herefordshire Riding for the Disabled at their Holme Lacy equestrian centre. Supporting the charity is one of his key aims.
Trojan is a seven year old handsome Welsh Cob bought by the Lions for £3,250 and who has already won the hearts of all those who benefit from the therapy of horse riding. Said Ian: "Lions bought a similar horse for the charity several years ago and Trojan's gentle nature makes him a natural companion for those with various disabilities. I, and my fellow Lions have been so impressed with the success of RDA that it was chosen as the first project of my year in office."
Rachael King, manager at the riding centre said: "Lions have long been generous supporters and the gift of Trojan, whose temperament is perfect for the role he has to play will have a huge impact on the service we provide for the disabled."
There are 11 horses and ponies at the volunteer centre providing riding therapy for 150 a week with ages ranging from four to 80.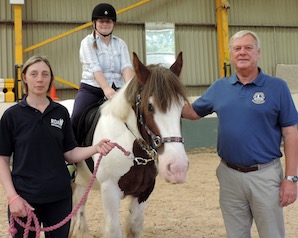 Ian Foster hands over Trojan to Rachael King and Jessica Jackson in the saddle who has already built a great rapport with the latest addition to the stables.



HEREFORD LIONS CELEBRATE CENTENARY
Hereford Lions Club celebrated the centenary of its parent body, Lions International with a display in High Town on Saturday (August 26) and one hundred ladies were presented with a single rose to mark the occasion.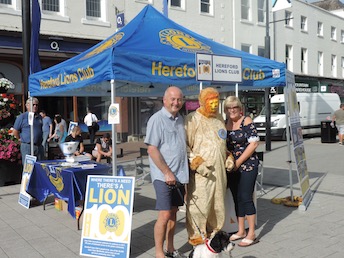 The organisation was founded by a Chicago businessman to encourage people to put their talents to work improving their own communities. His vision created a modern worldwide army of volunteers working in 46,000 clubs across 200 countries. The Hereford club was set up 57 years ago and Lions Clubs are also active in Ross-on-Wye, Kington and Black Mountains.
The city club is renowned for its fund raising events and the wide range of charities and community projects its supports, along with its much valued community transport service. Said publicity officer George Thomas: "The High Town display was a thank you to the public for their generous support over the years and to make even more people aware of the vital role Lions Clubs play in their communities worldwide."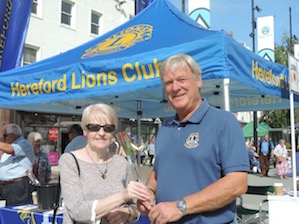 Club president Ian Foster presents a rose to Helen Richards

HEREFORD LIONS HELP MARLEY GET ON HIS BIKE
Marley George has cerebral palsy and can't walk, but the 18 year old is able to ride a specially designed trike and Hereford Lions Club has bought him one as an early Christmas present.
The £3,000 machine will not only help him strengthen his leg muscles and stamina , but give him the opportunity to go for bike rides like other youngsters. Said Marley: " I could not have wished for a better present. Its cool."
Club president David Hartland said: "It is our privilege to help Marley achieve one of his ambitions and seeing the happy smile on his face when he took his first trial run made it all the more worthwhile."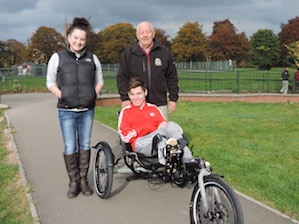 Picture: Marley 'gets on his bike' watched by Lion David and his mum, Vanessa

LIONS HELP TACKLE MENTAL HEATH CRISIS
The club has responded to a shocking report that 1 in 10 children and teenagers are risk of suffering from mental health issues by giving MIND, the local mental health charity a £5,000 grant to set up a therapy service in county schools and youth clubs to tackle the crisis.
Club president David Hartland said: "The report made grim reading and we wanted to help the 500 county youngsters believed to be at risk."
Richard Kelly , Executive Director of MIND said: "This grant from Lions Club could not have come at a better time. There is no public funding for early intervention in the field of mental health. We had already recognised the need for a support service in schools and youth clubs to help young people showing signs of mental health problems but lacked the financial resources to set it up."

BEST EVER BALL
An Autumn Ball staged by the club, including a charity auction raised £10,000 for St Michael's Hospice. The ball at Lyde Arundel was attended by 200 guests and was declared to be the best ever organised by Lion Mike Hughes and his team on behalf of the club

The 23rd annual edition of Hereford Lions Festive News, a 48 page full colour newspaper distributed free to 30,000 homes in and around the city was published in November which also saw the start of the club's Santa Sleigh run and its Santa's Grotto at Wyevale Garden Centre which attracted 10,000 visitors last year As usual the club ends the year on a high with a sell-out New Years Eve party. Contact Lion Keith Martin (01432 358362) for tickets. Festive News is available here

DUTCH HONOUR LION TONY
Forty years ago Hereford Lion Club stalwart Tony Cole organised the first Lions sponsored trip for local schoolboys to an international youth football tournament in the Dutch city of Vianen – and never missed a tournament for the next 39 years.
But he was missing from the 40th anniversary event earlier this year when the Mayor of Vianen, Wim Groeneweg announced Tony, a retired accountant who was recovering from cancer treatment, had been made a Freeman of the City in honour of his outstanding contribution to international youth football.
The Mayor of Hereford, Councillor Jim Kenyon on behalf of the Mayor of Vianen, presented Tony with his Freeman's medal in a ceremony at the Town Hall attended by fellow members of Hereford Lions Club. Over the four decades 2,400 local lads have had the experience of playing against other European teams thanks to Lion Tony's initiative all those years ago.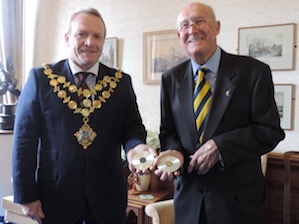 Mayor Jim Kenyon presents Tony Cole with his Freeman's award.
FAST CAR WISH GRANTED
Ten year old Christopher Gibbons loves fast cars but will never be able to drive one because he suffers from muscular dystrophy and relies on a wheelchair to get around. But his wish to go for a ride in two of the fastest cars in the world - a Lamborghini and a Ferrari -has just been granted by Hereford Lions Club.
Christopher lives with his parents Colin and Clare Gibbons and his brother Ben, 9, in Bartestree and last Christmas when the Lions Santa Sleigh arrived in the village he mentioned his passion for speed. One of Santa's helpers, Lion John Edmunds decided the ideal present would be a visit to a racing circuit near Cowbridge in South Wales which boasts a collection of Top Gear style motors . Said dad Colin, a Hereford fireman: "Seeing his smiling face when he got out of the cars was priceless. We can't thank the Lions Club enough for such a wonderful kind gesture"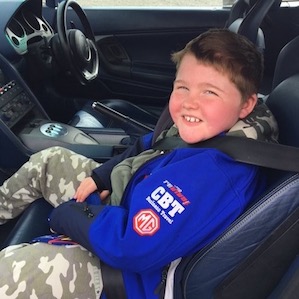 Christopher ready for his spin in a Lamborghini
TEDDIES FOR CHILDREN'S WARD
A soft cuddly toy works wonders for youngsters facing treatment in the children's ward at Hereford County Hospital and Hereford Lions Club has just answered a plea for more with a delivery of 100 little teddies.
Sister Lynne Butler said: "Coming into hospital can be quite upsetting for babies and young children and we have found that giving them the opportunity to choose a cuddly toy helps settle them. We were running low and are grateful to Lions Club for their donation which will delight 100 of our young patients. Gifts of soft toys are always welcomed."
Said Lions Club president Colin Smith, "Lions has a long association with the children's ward, especially on Christmas Day morning when we escort Santa to deliver presents to those children in hospital over the festive period. Seeing the smile on their faces when Santa walks in is very special and I am sure these teddies will also help turn tears into smiles."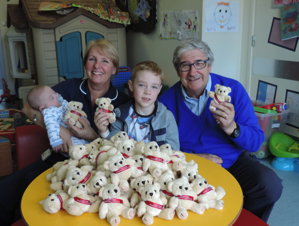 Colin and Sister Lynne Butler present the first of the teddies to seven year old Harry Rees and three and a half month old Dexter Read, both of whose families live in Hereford.


LIONS CAR BOOT SALES RESTART - SATURDAY 30TH APRIL
The region's most popular car boot sale staged by Hereford Lions Club restarts for the new season on Saturday, April 30 on its convenient site on Roman Road, opposite Bookers and South Hereford Garages. (subject to weather conditions) Since the launched its charity car boot sales five years ago the club has raised £26,000 for the local charities it supports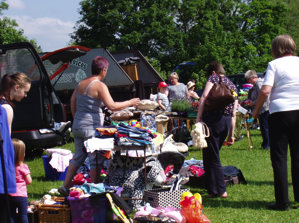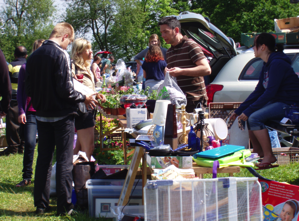 Brisk trade at Lions car boot sales


SUPPORT FOR YOUTH
One of Hereford Lions Club president Colin Smith's projects for the year was to support young people, saying : "The youth of today are our future and we must ensure they have all the opportunities to achieve their vision of what the future should be."
The county's Young Carers Association, which provides lots of support for youngsters caring for parents or a family member was one of the first to benefit. The club helped fund a holiday break for six young carers and organised a series of fun events, including skating parties so they can socialise with other carers.
The latest is a £500 donation to the Herefordshire Performing Arts Festival in which 2000 take part, the majority of them young people from schools and colleges. The 82 year old festival was at risk after the county council axed its annual grant. Said Colin: "We did not want the many hundreds of young people who take part in the festival to lose out on the opportunity to enhance their skills in music and other art forms. Who knows one of them might one day be another Ellie Goulding, one local girl who has become a star performer!"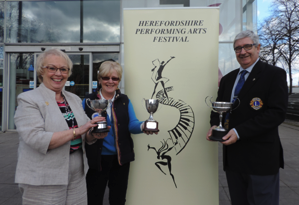 Colin with festival organisers Carol Thompson and Anne Ellis
RECYCLING FOR THE DISABLED
Hereford Lions Club has launched a new project to help those handicapped by mobility problems and unable to afford a wheelchair, mobility scooter or other aids. The community service club is asking families who might have one of these aids lying unwanted in the garage to consider donating it to be refurbished and passed on to someone who needs one.
Said Mike Hughes, the club's welfare officer: "We are occasionally offered one of these aids and find a good home for it, but now we believe we can help a lot more people with mobility problems and unable to afford these aids by setting up a scheme on a more formal basis."
To either donate or to apply for a mobility aid write to Simon Swancott, Secretary Hereford Lions Club, 16 Moor Park Road, Hereford, HR4 ODJ. The club would also like to hear from anyone who might be able to spare some time to help with refurbishing the machines.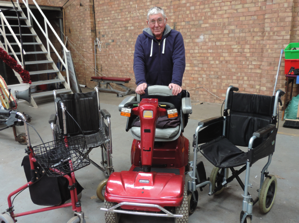 Lion Neil Jenkins with a selection of mobility aids currently available.
LIONS FIX DISNEY HOLIDAY FOR BATTEN DISEASE FAMILY
A family devastated by the news that three of their four children have been diagnosed with the life limiting Batten Disease are creating a 'Memory Bank' for the youngsters – and Hereford Lions Club has launched it with a £3,800 family holiday to DisneyLand, Paris.
When club members read in the local paper of the tragedy facing the Penn family who live in Hereford they quickly decided to help and booked the trip to the famous French resort full of all the Disney characters loved by children.
Now parents Jody and Denise, twins Toby and Corey, 12, Izzy, 7 who are each affected by the deadly disease and Amber, 11 are excitedly going through the DisneyLand brochure to plan each day of their dream holiday in April. The twins are already losing their eyesight, one of the first of the Batten symptoms, a disease affecting just 64 children in Britain.
Mum Denise said: "This is an unbelievably kind gesture by Lions Club and will create wonderful memories which will last forever"
Said club president, Colin Smith: "Everyone in the club wanted to do something special for these youngsters who face a very uncertain future and a Disney holiday was the obvious choice."
It is the first project to be funded by the club's new Community Support Foundation set up with the proceeds of selling the club's former Holiday Home in Burnham-on-Sea which for 40 years provided free holidays for those in need, but closed two years ago.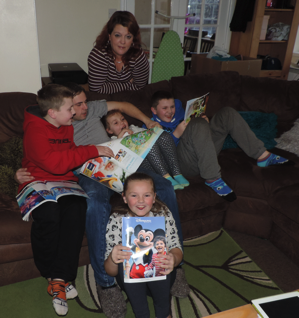 Denise and Jody with (l to r) Toby, Izzy, Corey and Amber in front check out the DisneyLand brochures.



LIONS HELP FLOOD VICTIMS
The 200 revellers at Hereford Lions Club's annual New Year's Eve party in the city helped raise almost £1,500 to aid the victims of the disastrous floods in Cumbria over the Christmas period.A raffle for a wheelbarrow full of festive drinks raised £745, an amount doubled by match funding from Barclay's Bank.Said Colin Smith, club president, "We have all been shocked by the terrible tragedy which has hit Cumbria and other areas in the North and everyone at the party wanted to support all those families whose homes and possessions have been ruined in the floods."

DANNI'S PERFECT CHRISTMAS PRESENT
Last Christmas Danni Clarke, a 32 year old mum of four suddenly paralysed by a rare brain condition faced a bleak future. But this Christmas the future looks much brighter.
Not only has her wish for a super off-road pink wheelchair been granted so she can go on family rambles with husband Si and children Charlie, Hallie, Phoenix and Summer Raye, but she has also regained some movement in her legs.
Hereford Lions Club, playing the role of Santa delivered the £3,300 life-changing all terrain wheelchair they bought for her and she is looking forward to lots of family outings to the woods and seaside trips to the beach in summer.
Said Danni at her home in Burmarsh near Bodenham : "This was the best Christmas present I could possibly have wished for and I am grateful to the Lion s Club for such a generous gift and to all those people who have kindly supported me and my family through the trauma of the last year."
Lion Mick Harmon spotted Danni's story in the Hereford Times On-Line earlier this year and asked his fellow club members to help and as the guy who sparked off the project, he was given the happy task of delivering the wheelchair to Danni's home .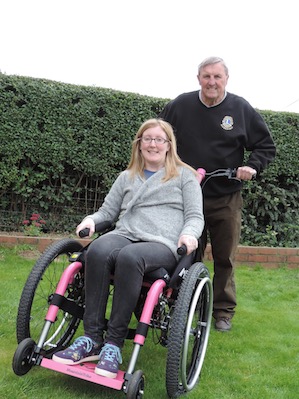 Mick gives Danni a test ride.


Danni surrounded by her family



SANTA CASH WILL HELP THE NEEDY
Hereford folk contributed in true Christmas spirit to the efforts of Hereford Lions Club to keep alive some of the great festive traditions by donating over £7,000 to the club's charity fund.
The money was donated at the Lions Santa Grotto at Wyevale Garden Centre, during the visits of the Santa Sleigh to city streets and local villages in the weeks before Christmas Day and on the day Santa and his sleigh was in High Town to wish shoppers a Merry Christmas in 2015
Said club president, Colin Smith, "Yet again Herefordians have showed their great spirit of generosity and Lions Club will ensure that this wonderful gesture will be put to good use helping those in need in the community."
NATHAN IS CHOSEN AS A YOUNG AMBASSADOR
Sixteen year old Nathan Priday from Leintwardilne is Hereford Lions Club's candidate in the 2016 quest to find the national winner of the organisation's 'Young Ambassador' award. For the regional winner there is a £500 bursary and the winner of the national Ambassador title the bursary is £1000..
Nathan , a student at Wigmore High School where he is Head Boy is also the carer for his disabled mother and a member of Herefordshire Carers Association which supports those youngsters caring for a family member.. And, if that is not enough, he helps elderly neighbours with their chores and shopping and is a big fund raiser and ambassador for the carers association. Nathan plans to study at Herefordshire College of Technology to become a Chef.


CASH FOR COPTORS
The region's Air Ambulance service has been given a £5000 donation by Hereford Lions Club to help keep its life saving helicopters flying. The club's president, Colin Smith is pictured with Susie Godwin of Midland Air Ambulance at the Lions annual charity golf tournament at Wormsley when he handed over the cheque.
Lions Club has previously supported the vital service with Colin presenting £10,000 when he was president in 2003 and David Barrett also giving £10,000 during his term in office in 2003. Said Colin: "Air Ambulance is a life saving service which relies entirely on public donations and without which many lives would be at risk. I, and my fellow members firmly believe it is a charity we should support."
The service started in 1990 with one helicopter and now has three, one each based at RAF Cosford , Tattenhall, and at Strensham, which covers Herefordshire. To date it has flown over 44,000 mercy missions, 35% involving car accidents. Each mission costs £2,500.





LIONS SET UP NEW COMMUNITY SUPPORT FOUNDATION

Hereford Lions Club has sold the Holiday Home at Burnham-on- Sea which for almost 40 years provided free self - catering holidays for thousands of local people and families who would not otherwise get a seaside break.
The seafront property sold for £250,000 at auction and the proceeds of the sale will be invested in a new Hereford Lions Community Support Foundation which will enable Lions to increase the work it already does supporting local charities and community projects in the city and surrounding villages.
The Holiday Home, bought by Lions in 1977 closed down two years ago after dwindling applications for free holidays and the rising costs of maintaining the property made the charity service unsustainable.

Terry Williams, chairman of the Holiday Home trustees said: " Many thousands, especially , the elderly and the handicapped enjoyed holidays at Burnham over four decades and ending the service was a sad and difficult decision. But the new Community Support Foundation will allow Lions Club to use the assets raised by the sale to support a much wider range of charities and community projects here in Hereford, including grants towards holidays for those most in need."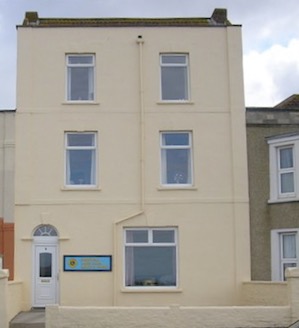 LIONS BOOST EYE CARE WITH £14,000 NEW DIGITAL CAMERA
The Victoria Eye Unit at the County Hospital will be able to improve their service with the gift from Hereford Lions Club of a £14,000 highly specialized digital camera used to diagnose patients' eye problems.
Stephen Scotcher, clinical director of the unit said: the equipment was 'the workhorse' of the Eye Unit which deals with some 27,000 patients a year and the extra camera would greatly improve the service he and his team provide. "We could not have wished for a more useful Christmas present. It is a very generous gift from the Lions Club."
Lion Mike Poole, Club President said: "There is increasing pressure on our health services and anything we can do to ease the strain will greatly benefit those whose eyesight is at risk" It is the third camera the Lions Club has bought for the unit over the past 30 years.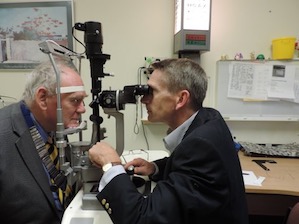 Picture: Lion Mike Poole (left) gets a quick eye check with Stephen Scotcher



Latest News : City Lions send aid to Phillipines
Hereford Lions Club has sent £1000 to the Lions International appeal fund to help the victims of the typhoon disaster in the Philippines. The money will help buy water filtration equipment for families left homeless in the wake of the worst ever typhoon to hit the islands.
A club spokesman said: "As part of a worldwide humanitarian organization Lions Clubs are able to respond very quickly to disasters which cause such traumatic devastation by organizing the delivery of direct aid."


Special Gift for Ruby
Four year old Ruby Watkins has cerebral palsy and can't play with dolls or toys like other little girls.
Now, thanks to Hereford Lions Club, Ruby has her own very special playthings to make her smile.
Lions Club has bought her a set of eight specially designed electronically controlled sensory 'toys' she can activate with a simple touch or sound giving her the same tactile experience she would get playing with standard toys,
Lion David Barrett who delivered the equipment to her home in Frank Owen Court in the city: "Seeing the look of delight on Ruby's face when she played with the first piece made the whole exercise worthwhile."
Her mother, Jemma, added: "This will allow Ruby to enjoy the tactile interaction other children get from playing with their normal toys. We are grateful to the members of Lions Club for their generous gift."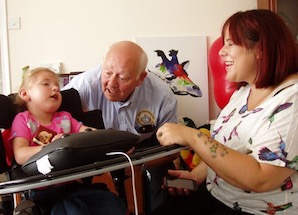 Lion President David with Ruby and her mum.


Lions £5000 gift for Acorns
Hereford Lions Club has again supported the Acorns Hospice, which cares for terminally ill children, with a grant of £5000. Back in 2003 the club chipped in £34,000 to the original appeal fund to build the hospice in Worcester and which has since been a great benefit to those Herefordshire families with a life limited child.
Former Lions president, Ron Williams chose Acorns as one of his projects during his term in office and recently visited the hospice to present the £5000 cheque to Caroline Crowe, its community fund raising manager said: "There is an increasing demand for the services freely provided by Acorns, and their newly introduced service of care and support at home, and on behalf of Lions Club, and everyone who supports our fund-raising activities, it was a privilege to help this very worthwhile project."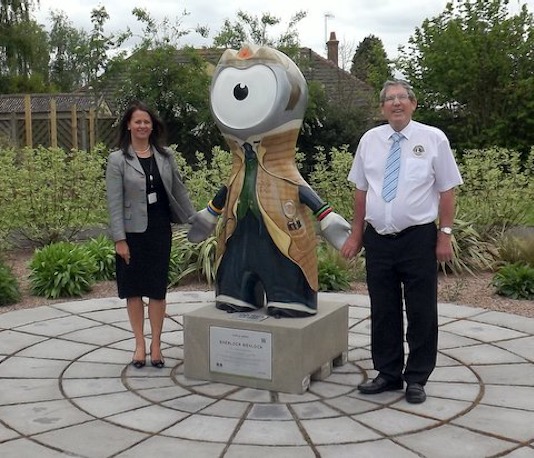 Ron Williams with Caroline Crowe at the hospice.

Tess's Gift for Soccer Boys
Two schoolboy football teams representing Hereford in an international youth soccer tournament in Holland were both wearing smart new kit thanks to city grandmother, Tess Forder.
When Tess celebrated her 80th birthday with a party at The Green Dragon Hotel she told guests not to bring presents but if they wished, to make a donation to buy new shirts and shorts for two of the four teams Hereford Lions Club take each year to the tournament in Vianen. This was the 37th anniversary of the Lions youth project, of which her son Martin, a former county referee, is one of the organisers. It is estimated that over 2000 local schoolboys have played in the tournament, which Hereford has won on several occasions.
Said Tess: "People were very generous and we raised enough to buy two sets of new kit for the boys.. Playing against other European teams is a wonderful opportunity for them."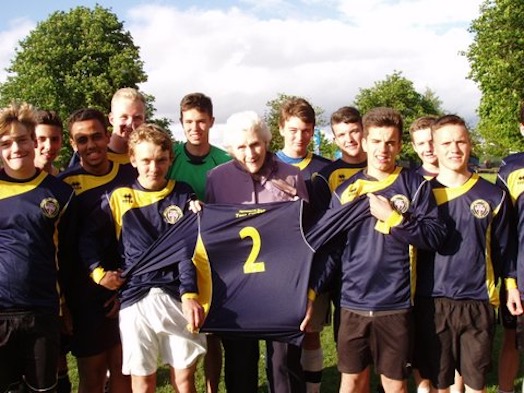 Tess is pictured presenting the under 16's team with their new strip at a training session at Lads Club before leaving for Holland.

NEW LEADER FOR HEREFORD LIONS
New president of Hereford Lions Club is Jim Hamilton who first joined the international community service organisation in Surrey in 1983. A move to Herefordshire in 1996 saw him join Ross-on-Wye Lions and later the Forest of Dean club before switching to the city club when five years ago he and his wife, Louise moved home to Allensmore.
A retired computer software consultant, Jim is a former chairman of Lions national IT committee and has also served as District Governor of Lions 105W which covers South Wales to Wiltshire. He brings considerable experience of the worldwide organisation to his latest role leading the city Lions Club.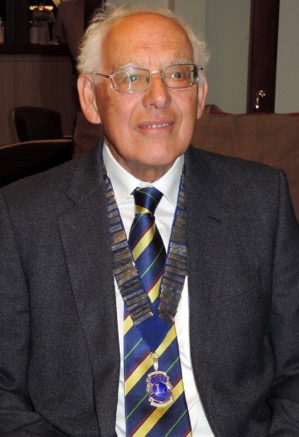 Lion Jim Hamilton

LIONS CHARITY GOLF WINNERS
Winners of Hereford lions Club's annual charity golf tournament at the Herefordshire Golf Club were the four man team of (l to r) Ron Jones, Ron East, Ray Bayliss and John Taylor, pictured with Lions president Jim Hamilton (centre) who presented the prizes. Playing on their home course, the team returned a score of 114 points, three ahead of runners=up, Rory Hollinshead, Chris Aspey, Mark Davies and Jon Dallow. The winning ladies team was Pauline Foster, Gina Wyke, Clare Hadley and Sue Price of the Grove golf club.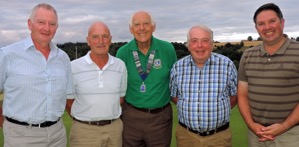 The popular event attracted 41 teams and raised £5,000 for the Prostate Cancer appeal fund, one of the charities being supported by Lions Club this year.


GARDENING ON THE CURRICULUM
Sixth form students at Barrs Court special needs college based in Symonds Street in Hereford can now learn about gardening thanks to the gift of a poly-tunnel which was officially opened before the start of the summer holidays.
Special guests were Mike Hughes of Hereford Lions Club and Jude Norcott of S & A Davies, the Marden based soft fruit growers who joined forces to help the students achieve their wish to take up gardening. Lions undertook the ground work and S & A built the poly-tunnel now full of vegetables and flowers. Expert help was given by tutors from Growing Point and Growing Local, and teaching assistant Rex Birchmore.
Rebecca Roberts, who co-ordinated the project said: "The whole college was very excited to have this new and exciting opportunity to include gardening on the curriculum. Produce from the poly-tunnel was sold at our summer fete."
She added: "We would like to say a huge thankyou to everyone involved in providing Barrs Court with this fantastic resource."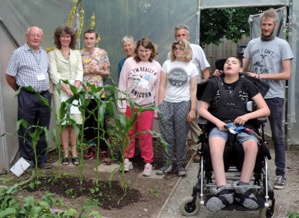 COFFEE MACHINE FOR SAXON HALL
The café at Saxon Hall community centre at Putson in Hereford is now serving superb coffee in a variety of flavours thanks to a £600 coffee making machine donated by Hereford Lions Club. The café is run by Echo, the charity which provides work training and experience for young people with learning difficulties.
Said club president, Ian Foster: "It's a two-way win - the young trainees get to use the smaller version of the kind of machine used in city centre coffee shops, and their customers enjoy top quality coffee. We were delighted to buy it for them."
Victoria Craig, the Saxon Hall manager said: "The café is a partnership between the centre and Echo and is much appreciated by the groups using the centre. It is hoped to extend the days it is open."
She added, "Loneliness amongst the elderly is an issue in the community and the café could be a great asset for an organised drop-in centre for them to share some company with others. The coffee machine is a wonderful gift from the Lions Club and will be greatly appreciated by everyone using Saxton Hall."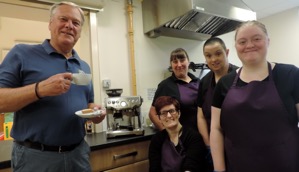 Ian Foster samples a cup of coffee with Amanda, Tracey, Dan and Laura.

STAN'S CAR WILL HELP OTHER WHEELCHAIR USERS
The family of Hereford business man, Stan Austin who died, aged 85 in February have donated a useful legacy to those, who like Stan are confined to a wheel chair.
Stan founded Kings Radio selling televisions and radios, retiring in 1982. Five years ago health problems led to both his legs being amputated and he bought a specially adapted car for his family to take him out in his wheelchair.
He had been a long serving member of Hereford Lions Club and his nephew Paul Prosser donated the vehicle to the club. When the club heard that the community transport service, Dial a Ride's same single wheelchair car was no longer useable they give them Stan's. Said club president, Ian Foster "It is a perfect legacy in memory of Stan."
Paul Dopson, general manager of the Plynlimon Trust the charity running Dial a Ride said: "A lot of wheelchair users rely on us to get them to doctor appointments or on outings so the gift from Stan's family and the Lions Club was just what we needed."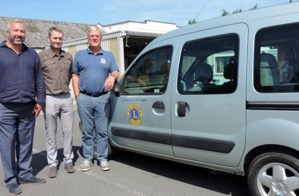 Lion president Ian Foster (right) hands over the vehicle to Paul Dopson (left) and Marc Hales.