Welfare Activities

RECYCLING FOR THE HANDICAPPED
Hereford Lions Club is launching a new project to help those handicapped by mobility problems. and unable to afford a wheelchair or mobility scooter.
The club is asking families who might have one of these lying unused in the garage to consider donating it to be refurbished and passed on to someone in need of one.
Said Mike Hughes, the club's welfare officer. "We are occasionally offered one and find a good home for it, but now we believe we can help a lot more people with mobility problems and unable to afford the cost of either a wheelchair or mobility scooter by setting up a scheme on a more formal basis."
Mike can be contacted by donors– or applicants- on [email protected]

SUPPORT FOR YOUTH
Lions Club president Colin Smith has chosen the support of young people as one of his main projects during his year as club leader and is inviting organisations involved with youth or individuals to apply for grants to help fulfil a project.
Said Colin, "Young people are our future and as the current older generation we must ensure that they have all the opportunities to achieve their vision of what that future should be. I, and my fellow Lions have long seen youth development as a priority and over the coming months I aim to be far more pro-active in providing some financial support for local projects that will expand and develop activities and facilities for Hereford's youth. After all, the future will soon be in their hands!!"
Ideas for projects or applications for grants can be sent direct to Colin at
[email protected]

LIONS BUY HOIST
Riding for the Disabled, based at Holme Lacy now has a horse that doesn't need feeding or grooming – a mechanical horse on which the disabled can learn to ride a real horse. But getting mounted was difficult and an electric hoist costing £2,500 was needed to lift riders safely into the saddle. Hereford Lions Club, long time supporters of the RDA provided the cash for the new hoist. One of the first to try it out was six year old Ellis Jones of Hereford who has cerebral palsy and whose mobility has greatly improved as a result of his horse riding therapy

HELP FOR SEA CADETS
Earlier this year Hereford Sea Cadets suffered a devastating blow when the riverside base was broken into and six canoes stolen. When the city Lions Club heard the news they quickly offered help. The cadets insurance would replace the canoes but they had to find £500 to pay the excess charge. Lions covered it and the cadets were able to carry on paddling their own canoes..

SAVE YOUR SPECS
Hereford Lions Club collects unwanted spectacles for recycling to overseas countries where people cannot afford to buy them. Said Neil Jenkins, "An old and unwanted pair of specs can, in fact, become a gift of sight to someone in impoverished third world countries.."
Unwanted specs can be left in a collection box at SpecSavers in Maylord shopping centre in Hereford

VITAL INFO
Lions 'Message in a Bottle' scheme is growing. The idea of the scheme is to help medical or emergency services called to a home have access to an individuals personal medical details, such as medicines , allergies and next of kin.
The form goes in a special plastic pack stored in an easily accessible place, such as the fridge. There is a sticker to alert emergency personnel. It can be a real lifesaver. Contact Lion Ron Williams on 01432 353260 for more information.

BLACKSMITHING JENNY WINS BURSARY
Hereford Lions Club's annual £500 Bursary to help a young person achieve a personal goal has been won by 22 year old Jenny Tyrrell to aid her quest to become a craft blacksmith.
Jenny is studying at the Hereford based School of Blacksmithing and needs the extra cash to pay for her use of a forge at The Making Centre in Harrow Road. She already has a degree in History and plans to make a career producing replicas of ancient armour, swords and artefacts for re-enactment societies and museums.
But as well as struggling to raise the funds to complete her training in this highly specialised craft Jenny is also battling serious health problems which could eventually cripple her.
Said Simon Swancott, Lions Club secretary, "Jenny has shown great determination and courage to achieve her own personal goal and is a worthy recipient of the 2015 bursary." Applications for the 2016 bursary can be sent to Simon at: [email protected]

SUPPORT FOR DISNEY TRIP
The 17 young girls who make up the 23 Girl Guides troop at Barrs Court special school are planning a trip to Disney World, Paris next summer but have to raise the £4,000 cost When Hereford Liions heard of the exciting venture for the special needs girls they sent the club president along with a cheques for £1000. Said Mike, "The visit to Disney World will be a wonderful experience for the girls."


Lion Mike meets the Guides.


VITAL HEALTH INFO IN A BOTTLE
Herefordshire NHS has adopted the 'message in a bottle' scheme introduced by Lions International and 26 GP surgeries in the county are backing the project. The idea of the scheme is to help medical or emergency services called to a home to have immediate access to an individual's personal information including medical background notes, medicines, allergies, and next of kin. The information is put on a form and places in one of the special packs provided and stored in an accessible place. The fridge is recommended. A sticker for the window or door alerts the medics.
Lion Ron Williams is managing the scheme for Hereford Lions and he can be contacted on 01432 353 260 or [email protected]


Lion Ron shows off the pack



HELP FOR NEW LUNCH CLUB
A new Monday lunch club for pensioners based at St Francis Xavier's Church in Broad Street has had a helping hand from Lions Club who have purchased a microwave, crockery and a hostess trolley. The club has been set up by Daya Boodhoo who recently retired after 10 years as a co-ordinator with Age Concern.
Picture: Mike Hughes, Lions welfare chairman with Daya at one of the club meetings.

PARTY TIME FOR SENIORS

Hereford Lions Club has introduced a series of tea parties and entertainment for old. The first one in November was held at the Kyrle Pope residential centre in Tuspley and after a sumptuous tea the guests were taken down a memory lane of old songs by Brian' Banjo' Turner. Contact Lions if your residential home would like a tea party.


DIABETTES CHECK

Going to the annual Lions Diabetes Check-Up at St Peter's Church Hall proved a positive step for five of the 80 people who turned up. Each of the five were found to be at risk and advised to see their GP. The tests are undertaken by professional medical staff with Lions Club organizing and funding the venue and tea and cake. Said Lion Mike Hughes, "It only takes a moment to do the test but I am sure the five whose tests showed positive are glad they popped in and for the others they at least have the comfort of knowing they are clear of the disease." The Lions check-up is held each October.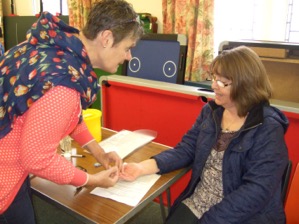 One of the nurses takes a blood sample.


SUPPORT FOR FLORAL DISPLAYS

Lions chipped in £500 to the Hereford in Bloom fund to buy plants for the flower beds and planters around the city after Herefordshire Council announced there was no money to pay for planting the city would be bare. The Lions sponsored the planters outside the Butter Market. Lion Ian Foster, pictured showing one of the displays to Britain in Bloom judge Nicola Clarke, said "It is important the city looks bright, cheerful and welcoming to visitors if we are going to rebuild the local economy."